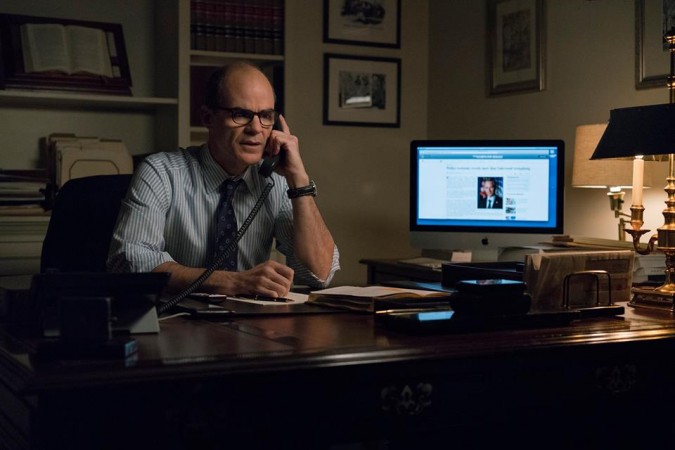 House Of Cards has reportedly resumed production for season 6 with Robin Wright as the lead cast. Although Kevin Spacey will not appear in the final chapter, it does not mean that Frank Underwood will not be a part of the show.
Cast member Michael Kelly, who portrays the role of Frank's chief of staff Doug Stamper in the political drama series, has teased Frank's off screen presence in the story. According to him, his character cannot imagine a separation from the former president.
"We've talked about some scenarios that could play out. They might not be apart. It would be weird for me if they were. I've been side-by-side with that dude for the better part of five years," the actor said in an interview with The Hollywood Reporter.
Also read House Of Cards season 6 spoilers: Boris McGiver says Tom is ready to fight against Claire
Kelly has also teased a secret team up between Frank and Stamper in the sixth season of the show. He said that the duo is planning to do "some bad things" on their way and "it's all for the greater good for the American people".
"Frank Underwood is the perfect person to lead the country. But yeah, it's bad for the greater good," he added.
Does it mean that Frank will have a vital role to play in the final chapter? If so, will Stamper help me him in fulfilling his dreams? The fans will have to wait until the premiere of season 6 to know more about it.
Meanwhile, Co-showrunners Frank Pugliese and Melissa James Gibson have confirmed that "Doug Stamper will never be sidelined!" in the story.
"That's not a character that's going to go away easily and how he reinvents himself, even in a political way, I think is going to be a blast to see. We'll see what his recovery looks like and what he ends up like after recovery," Pugliese explained.