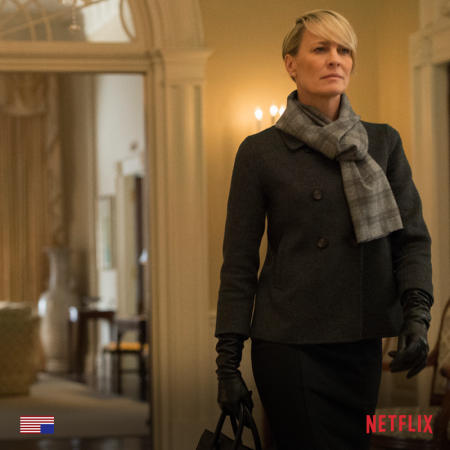 The Netflix political drama series - House Of Cards – will focus on the newly elected president Claire Underwood in the sixth and final season.
Cast member Robin Wright, who portrays the role of Claire, has teased an "interesting" start for her character in the last and Kevin-Spacey free season of the show.
"All I can tell you is after season five, things are complicated and interesting for Frank. And things are going to become very interesting for Claire," the actress said in an interview with The Hollywood Reporter, adding, "How ambiguous can I make it?"
Wright also said that she is looking forward to see one of the greatest presidents of the show in the upcoming season. "I would personally like it to be the greatest president we've ever had. How she gets there and achieves that is a whole other thing regarding the opera of the show," she said.
Also read House Of Cards season 6: Is this how Frank Underwood bids adieu to all?
The cast member then teased an unexpected plot twist for her character in the sixth season. She hinted that her character could kill former president Frank in the upcoming episodes. "They are both capable of anything and that's what's so great about the mystery of it. They are both capable of anything!" she said.
Meanwhile, cast member Boris McGiver, who portrays the role of The Washington Herald's editor-in-chief Tom Hammerschmidt, has teased big ramification for the newly-elected president Claire.
"I don't buy what Stamper is saying. I don't buy it. It's just not right. My guess is that as we go forward — knock on wood that it will be going back — to, where's the marrow of that bone? Go back to the marrow. We bit off a nice piece, but nope, it didn't feel right," the actor said.
"I hope that I get to bring the Underwoods to justice. Even if they are ultimately going to get pardoned anyway, which happens to most presidents. Even if it came down to them being publicly accused for their crimes and arrested. With Stamper being under house arrest for what he is being accused of, that is crazy! It would be nice if I were able to make it happen," he added.