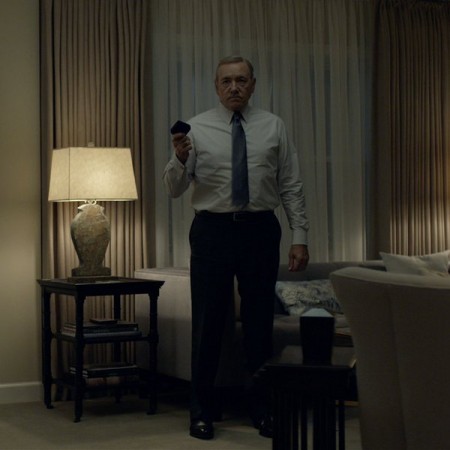 House Of Cards fans are desperate to know the fate of former president Frank Underwood. The Kevin Spacey free sixth season will probably begin by addressing his demise.
If some of the fan theories are to be believed, the former President will kill himself in season 6. "He gets exposed and kills himself saying he has no patience for useless suffering," a follower of the Netflix series wrote on Reddit.
"They're going to write him out via suicide I bet. No easy way of pulling that off. There's just going to be some dialogue along the lines of "Wow, can't believe he killed himself", and Claire is just gonna be relatively emotionless about it, as usual," another viewer speculated.
Also read Arrow season 6 spoilers: Episode 10 to re-introduce Laurel Lance
But a section of fans claimed that Frank Underwood will never kill himself no matter how hard it is to move forward. "Frank Wouldn't kill himself, even with the wolves closing in he has an out and a plan for revenge," a Reddit user wrote.
"Even having Frank for 15 min. of episode 1 would make this so much easier. Writing him off (either through jail, suicide or murder) without the actual character present doesn't leave many options other than news headlines and other characters speaking about it in the past tense. The first scene will be at his funeral with his casket and all (a fitting allegory for Spacey's career...) and then she turns to the camera saying it was her doing and she's in charge or something," another follower of the political drama series opined.
The creative team behind House Of Cards is really busy re-writing the story for season 6. So, the fans will have to wait a little longer to know the plot for the final season, which might premiere in the fall of 2018.