Huawei's online sub-brand Honor has been quite active in recent months with launches like Honor 7X and Honor View 10. The company is now making its presence felt in the premium smartphone segment with Honor 10 smartphone, the timing of which couldn't be more apt, given the upcoming launch of OnePlus 6 on May 16.
International Business Times, India, got its hands on the all-new Honor 10 that was launched in India for Rs 32,999 and it'll be available May 16 onwards. The handset's price already suggests it is going to be a premium flagship for online shoppers, and it's not hard to imagine being compared with the likes of OnePlus 6.
While we reserve our comparison between OnePlus 6 and Honor 10 until the former handset is launched, here are our first impressions for the Honor 10 smartphone.
Design and display
Honor is known for its exquisite design in smartphones and Honor 10 gets extra points for its looks. Some might find it a bit flashy for the bling on its back, but it seems like a breath of fresh air in similar-looking smartphones.
The handset features a 5.8-inch display with Full HD+ resolution, which is ideal for day-to-day use and the 19:9 aspect ratio makes one-hand operations a breeze.

Overall, Honor 10 scores impressively on the design front. The notch at the top of the display might seem a bit odd, but it is the natural design standard for phones with bezel-less screens these days to accommodate extra screen. Honor also smartly integrates a home button in the chin of the phone, which also acts like a fingerprint scanner. This allowed Honor to achieve a seamless design at the back of the phone without giving a cut-out for a fingerprint scanner.
Camera
The camera is a strong USP for smartphones these days and Honor is using that to make its new smartphone a relevant choice for consumers. The Honor 10 sports a dual rear camera setup with 24MP + 16MP sensors, which caters to the demands of mobile photographers. But it's the integrated AI that adds an extra punch to the photos to make them vibrant.

Honor 10 packs a bundle of camera modes for users to experiment with. Simply swipe to on the Honor 10's camera UI to switch between Portrait, Aperture, Video, and More, which includes a multitude of options such as AR lens, Pro, Slow-Mo, Light Painting, 3D Panorama, Artist Mode and more.

Mobile photographers will have fun exploring the different camera modes in the Honor 10, something that other phones fail to offer. Interestingly, users will get all the options on the selfie camera as well, which is fitted with a capable 24MP lens. We'll be testing the full potential of the Honor 10 camera in our detailed review soon, but so far it seems like a good shooter.
Biometrics
We often don't feel the need to test the biometric security features on a phone as companies have perfected the technology, especially the fingerprint scanner. In the Honor 10, the fingerprint scanner is placed under a glass and there's no haptic feedback, which requires users to wake up the phone before unlocking it.
There's facial unlocking software using the front camera as well, which requires waking up the phone. We set up both security features and found the facial unlocking useful than the fingerprint scanner. In the case of fingerprint scanning, we had to hard press on the dedicated glass area under the display to unlock. Setting up the fingerprint scans wasn't easy as well.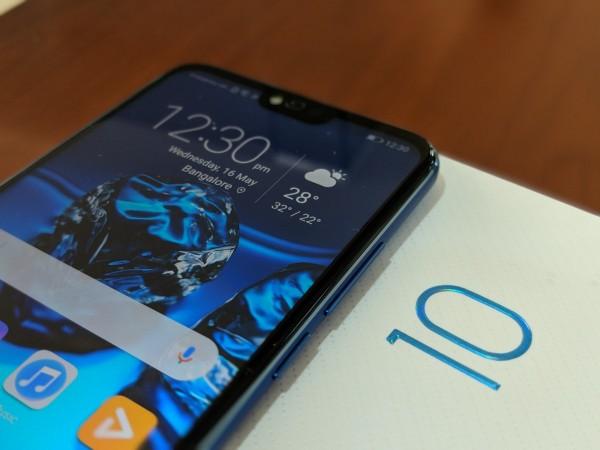 As for face unlock, the feature works most of the time, but we noticed lag while authenticating. We've tested many phones with similar feature and face unlocking, even if it is using the front camera, works flawlessly under good lighting. We will be testing the biometrics on the Honor 10 extensively to see if it is a problem worthy of company's attention or not.
Other features to be reviewed
Honor 10 looks like a fabulous device on paper. It comes with the latest octa-core Kirin HiSilicon 970 processor paired with 6GB RAM and 128GB storage, which suffices all your needs. The handset runs Android 8.1 Oreo with EMUI custom ROM on top of it.

There are a lot of pre-loaded apps on the phone, including Facebook, Instagram, True Caller, Asphalt Nitro and other games along with a suite of Honor apps. It would have been better if users had the choice of downloading necessary apps, but if you use them anyway it can save a lot of time downloading them.
We tested the phone with the pre-loaded games, Asphalt Nitro to be specific, and found the handset to handle it like a pro. There were no lags or stuttering during the gameplay and the Honor 10 didn't even heat up during the brief gaming session. We will be testing this thoroughly in our detailed review, but we have little doubt it will turn up with any performance-related issues.
Under the hood, there's a 3,400mAh battery with a fast charger in the box. It's likely to give the phone enough power to run for 7-8 hours with mixed usage, but we'll be testing it to accurately measure the battery life. The fast charger in the box is a bit surprising as the phone is charging at a normal pace. We'll see if that changes in our review.
Early verdict
Honor 10 is betting on the camera to push as many units as possible, but OnePlus predominantly has a strong foothold in the sub-Rs. 40,000 price category. Honor 10 is a great choice for those who want a handy phone with a unique design that is capable of delivering an impressive camera experience. The upcoming OnePlus 6 is going to be a strong competitor for the Honor 10, and it remains to be seen how well both phones fair against each other. Stay tuned for our detailed review.