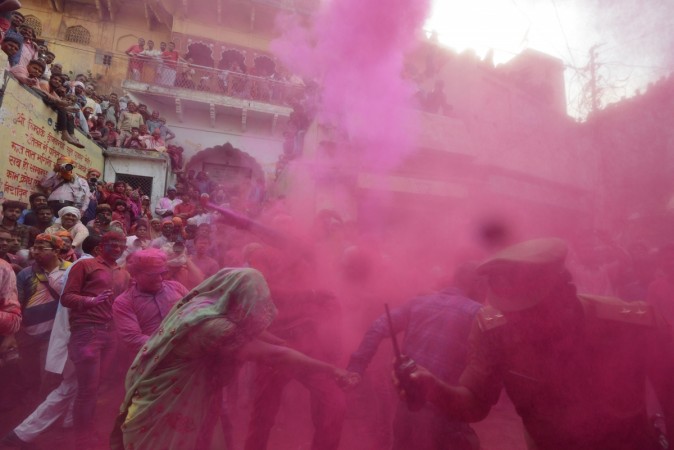 Holi is celebrated across India with colors, but in one of the oldest cities of the world — Varanasi — the festival is celebrated with a strange tradition. The city in the northern Indian state of Uttar Pradesh celebrates Holi by smearing "Chita bhasma" or funeral pyre ashes.
On Tuesday, devotees celebrated the festival at Varanasi's Manikarnika Ghat, which is one of the holiest ghats (riverfronts) alongside the river Ganga. According to popular belief, the tradition of celebrating Holi started when Lord Shiva smeared ashes all over himself to marry Parvati. Since then, there has been a tradition of marking this festival with ashes.
A certain section of people first offers prayer to Mahashamashan Nath, the lord of the cremation grounds, and then smears ashes and gulal on each other. They also dance to Holi songs like "Khele Mashane mein Holi Digamber, khele mashane mein Holi (Lord Shiva playing Holi at cremation place....)," according to the Times of India.
Even foreigners take part in this festival by smearing ashes.
Locals celebrate this unusual event every year, but for people who are not from the city, this event comes as a surprise.
"Rangbhari Ekadashi ke din Baba apne bhakton ke saath Holi khelte hain. Unke priya ganon bhoot, pishacon ko Holi khelne ka mauka nahi milta hai, isliye Baba unke saath 'chita-bhashma' Holi khelne shmashan mein ate hain (Lord Shiva plays Holi with his devotees on the day of Rangbhari Ekadashi. Since his beloved ethereal 'ganas' like ghosts and demons do not get a chance to play holi, he himself comes to cremation grounds with them to play Holi with pyre ashes the very next day)," organizer of the event Gulshan Kapoor told ToI.
Watch the video of people smearing ashes and celebrating Holi in Varanasi.