Sonia Gandhi may have stepped down from the position of Congress president, but on Thursday, February 8, she had to emphasize in a meeting with the party's MPs that her son Rahul Gandhi, who had taken over as Congress chief in December last year, is indeed her boss.
"He is my boss too -- let there be no doubt about that," she told Congress lawmakers, before clarifying that she would take a leading position in political protests against the BJP and Prime Minister Narendra Modi.
He is now my boss too—let there be no doubt about that – and I know that all of you will work with him with the same dedication, loyalty, and enthusiasm as you did with me. : Smt Sonia Gandhi

— Congress (@INCIndia) February 8, 2018
Here are 5 recent reasons that she had to remind her own party who's in charge, and these are not happy reasons. Stick around till the last one, because it could be the ulterior motive for everything else.
1. Trying to boost Rahul's image: Let's be honest: Rahul Gandhi does not exactly inspire confidence as a politician. Of course, there have been recent efforts to build Rahul's image online, but they have not been too successful. His own mother saying that he is her boss now -- at least politically -- might just inspire a little more confidence in the rank and file of the Congress.
2. Keeping morale up despite electoral losses: The Congress has not been able to win almost all the Assembly elections it has contested over the past few years. Sure, it may have won back Punjab, but it lost states like Goa -- here it had won a simple majority!
Continued electoral losses are never good for the morale of any political party, but Sonia implying that she is still within the party should inspire some confidence. After all, this was the same woman whose induction into the party in the late 1990s led to the Congress' surprise Lok Sabha election win in 2004, a feat it emulated in 2009 despite many odds and allegations of corruption.
3. Presenting a unified face: The Congress has lost many trusted lieutenants and foot soldiers to the Modi wave since the 2014 Lok Sabha elections, and ran the risk of losing many more if Rahul alone was to lead the party. That may not exactly happen with Sonia Gandhi still in play.
4. Quelling internal rebellion: There had been several calls from within the Congress to bring Priyanka Gandhi into the party fold and let her lead. She even showed some spark when she campaigned for the party in the run-up to the 2014 Lok Sabha elections. With Rahul Gandhi leading the party without Sonia's help, it would only be a matter of time before voices in support of non-Gandhi leaders grew louder.
5. Keeping the Gandhis in play: The only reason Sonia Gandhi was brought into the Congress after her husband Rajiv Gandhi's assassination in 1991 was that the party recognized it would not be able to function without the Gandhi surname in play: It lost successive elections in the late 1990s to the BJP and other political parties.
Now, Sonia knows that she may not be able to restore the Congress to its former glory, but she may have someone else -- someone other than Rahul -- in mind. This is Miraya, the teenage daughter of Priyanka Gandhi and Robert Vadra. Born in mid-2002, she may well be the next in the Gandhi clan to join politics and the Congress.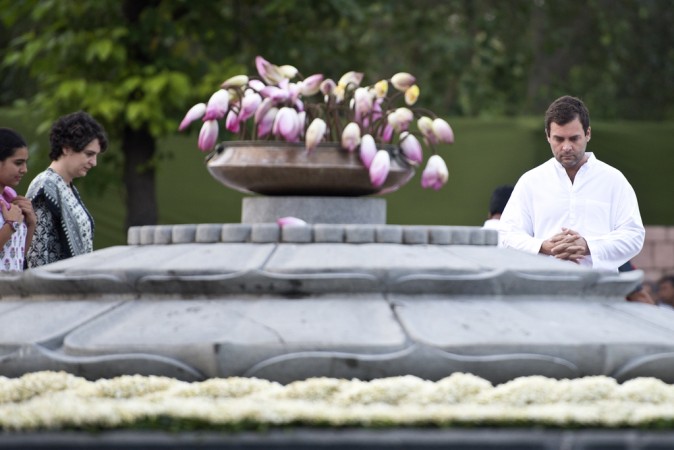 But for that to happen, and for her way to the party leadership to be paved, another Gandhi will need to be in charge. That will be Rahul Gandhi. And for Rahul Gandhi to stay in charge till Miraya is groomed and eligible for the top job within the party, Sonia Gandhi will have to consolidate his position.