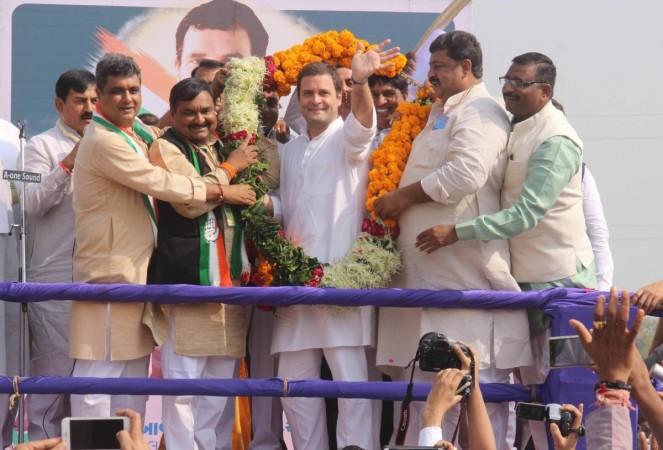 Marking a generational shift, Rahul Gandhi on Saturday took over as the new Congress President, assuming the mantle of the country's oldest political party from his mother Sonia Gandhi, and launched a sharp attack on Prime Minister Narendra Modi accusing him of "taking us back to the medieval times".
The process of his election as the new Congress chief was completed after the Central Election Authority President Mullapally Ramachandran handed over the Certificate of Election to Rahul Gandhi in a ceremony at 24, Akbar Road, housing the party headquarters.
Sonia Gandhi, 70, who steered the party through turbulent times for 19 years, her daughter Priyanka Vadra, and son-in-law Robert Vadra and former Prime Minister Manmohan Singh joined the top Congress leadership at the ceremony marked by loud celebrations as scores of Rahul Gandhi supporters danced to the beat of drums, raised slogans, burst firecrackers and distributed sweets outside the party office here.
The 47-year-old Gandhi scion's formal takeover comes two days before the counting of votes for Gujarat and Himachal Pradesh elections, the outcome of which could be a trendsetter for the 2019 Lok Sabha election. His main challenge remains the revamping of party organisation, apart from electoral battles in the run-up to the 2019 Lok Sabha polls.
In his first speech as the Congress President, Rahul Gandhi launched an all-out attack against Modi and the BJP.
"Politics belongs to the people, but today politics is not being used for people. It is not being used to uplift people, but to crush them," Rahul Gandhi said.
He said many of the countrymen were "disillusioned by politics of our time" as "today, politics is devoid of kindness and truth".
"The Congress took India to the 21st Century, but the PM, today, is taking us back to the medieval times... We are now being compelled to imagine that businesses can be built without harmony that only one man himself is the voice of reason, and that expertise, experience and knowledge can be cast aside for personal glory," Rahul Gandhi said.
"You have an example in front of you. Once fire breaks out it is difficult to douse it. That is what we are telling the people of BJP, that if you set the nation on fire it will be difficult to control. Today, the BJP has spread the fire of violence across the country."
Sonia Gandhi in her speech said the Congress activists and leaders were not a terrified lot.
"We won't bow down. Our struggle is for the country and we will continue fighting for it. We won't give it up," said Sonia Gandhi.
"Rahul is my son. So I do not think to praise him is appropriate for me. But I would say that since childhood he had to bear the brunt of violence. After joining politics he had to face blatant personal attacks that have made him a stronger person."
Manmohan Singh said Rahul Gandhi was assuming the new responsibility amid "disturbing trends" as "there are dangers that the politics of fear will take over the politics of hope" in the country.
"Rahulji, we depend upon you to transform and sustain the politics of hope," Manmohan Singh said, pointing out that the new Congress President had been trained for a long period and had already looked after many activities of the Congress for many years now.
"Rahulji brings in a new sense of dedication and commitment, a new sense of leadership with courage and humility."
Manmohan Singh said it was "a unique day in the history of the Congress" with Sonia Gandhi handing over the reins of the party to her son.
He said during the last 19 years as the Congress President, Sonia Gandhi "provided a powerful leadership".
"Now that Soniaji is handing over the reins of the party to Rahulji, we salute Soniaji for uniting the leadership, something that she has been doing for the last 19 years."
Outside 24, Akbar Road, Congress Headquarters, a group of colourfully dressed artistes played drums and danced to Punjabi bhangra tunes with party supporters, including men and women, shaking a leg or two and waving Rahul Gandhi's pictures and Congress flags.
There were other groups of artists from Hyderabad and Rajasthan performing folk dances of their regions.
Congress spokesperson Randeep Singh Surjewala said the Congress was making a new resolve for the country. "Today we are taking a pledge for a new movement in India.
"Free from fear, for freedom of expression, for eliminating discriminations, for promoting brotherhood and saving democracy."