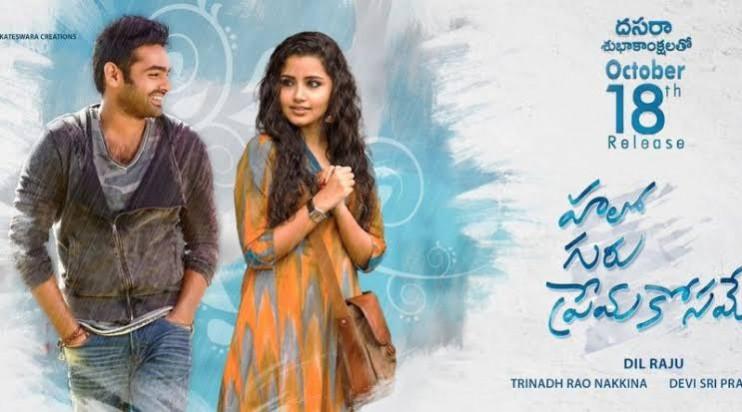 Ram-Anupama starrer Hello Guru Prema Kosame has received mixed review and rating from the critics, who say that the film is routine, predictable and tedious, but it is high on entertainment quotient that makes it a treat for family audience this Dussehra festival.
Hello Guru Prema Kosame deals with a routine plot and it has nothing new to offer. But the director manages to engage the audience with situational humour throughout the film. The first half is good, but the second half is predictable and has a tedious narration, which is sure to disappoint the viewers, say the critics.
Ram Pothineni and Prakash have delivered good performances and the comedy scenes between the two are the highlight of Hello Guru Prema Kosame. Anupama Parameswaran and Pranitha Subhash have also done a good job and their chemistry with Ram is good. The movie has decent production values and the picturisation and dialogues are among the attractions. But music is a big letdown, add the critics.
The Trinadha Rao Nakkina-directed movie has been rated an average of 2.82 out of 5 stars. We bring you some critics' verdict and ratings. Continue to see them in Hello Guru Prema Kosame review roundup.
123Telugu Rating: 3.25
When it comes to romantic drama's the stories are mostly one and the same. But if they are narrated in an entertaining format, things work most of the time. The same happens with Hello Guru Prema Kosame as the director has made the film with good fun and enjoyable elements throughout. Barring the predictable emotions and routine climax, this film has clean entertainment that will click with the audience during this festive season. Go for it.
AP Herald Rating: 2.25
The movie has a plot as old as hills, typically resembling Bommarillu, and a screenplay that's tedious and monotonous. Except for the minimal comedy episodes featuring Prakashraj and Ram, hello Guru Prema kosame offers nothing new, and while the first half moves at a dull pace with unwarranted song placements, the second half is cliched and predictable, with both romance and comedy failing to click.
The Times of India Rating: 3.5
No other genre casts a spell like family entertainers for the festive season and Hello Guru Prema Kosame makes good use of its timing. Set in a light-hearted vein for the most part, although peppered with a staple cinematic mix of middle class sentiments and romance, the film has a good share of sparkles to keep you engaged.
IndiaGlitz Rating: 2.5
The film tries to reach out to the family audience. But for some trace of freshness, it lacks a gripping narration. Comedy and sentiment work to an extent.
Telugu360 Rating: 2.75
Hello Guru Prema Kosame is a decent comedy entertainer if you don't mind it's predictable theme. Families and/or youth – Movie buffs may give it a try, you won't regret watching it.
Great Andhra Rating: 2.75
Hello Guru Prema Kosame is typical entertainer that has some fun moments but routine story, lethargic narration in the second half don't work at all. The two halves of the movie are different, while first half is time pass, second half is tedious.
Telugu Cinema Rating: 2.75
With a regular plot line and formulaic scenes, 'Hello Guru Prema Kosame' offers nothing much beyond some hilarious moments. What really works in the film is first half of the movie as it provides some neat comedy. Rest is routine and predictable.