Board of Control for Cricket in India (BCCI) will not judge Mohammed Shami based on his wife Hasin Jahan's allegations of domestic violence and adultery, a senior official of the governing body of the sport has said.
Shami will get back his annual retainership contract if the BCCI's Anti-Corruption Unit (ACU) gives him a clean chit over allegations of match-fixing.
Notably, the Supreme Court-appointed Committee of Administrators (CoA) had directed the apex body to investigate Jahan's allegations of the fast bowler "cheating the country".
The former Kolkata Knight Riders cheerleader, who married Shami in 2014, has accused the cricketer of domestic violence, adultery, and torture.
Charges under several non-bailable sections, including attempt to murder and rape, have been filed against the pacer after his wife filed a police complaint at Kolkata's Jadavpur police station.
Jahan came up with a shocking claim last week when she said Shami had taken money from a Pakistani girl named "Alisbah" upon the insistence of England-based Mohammed Bhai during his trip to Dubai earlier this year, hinting about the possibility of "match-fixing".
Shami has denied the allegations and stressed his wife was not "mentally stable". However, Jahan recently sent the details of police complaint to the CoA to aid ACU's investigation.
"Yes, there are specific allegations leveled against him by his wife. But the Kolkata Police is doing its job and it's completely their domain. In BCCI, we can't sit back on judgment on personal life and take away his livelihood. Also, the board doesn't have the powers to do so," the BCCI official was quoted as saying by the Press Trust of India.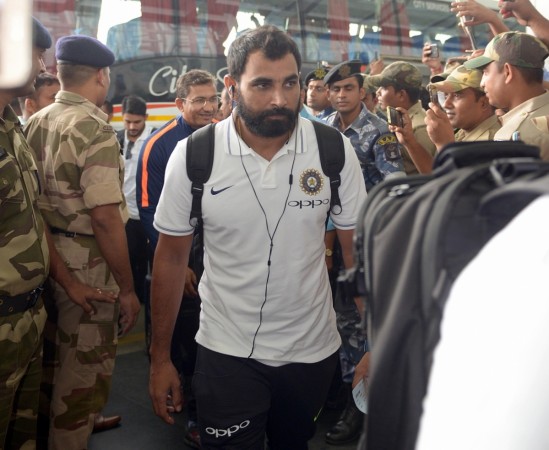 "The BCCI's handbook has an 'Ethics Code' for cricketers with a specific clause regarding financial transactions. The ACU is only investigating Shami's dealings with Mohammed Bhai and Alishba and the alleged monetary exchange his wife is talking about.
"If Kumar's report absolves Shami of any wrongdoing, he will be immediately handed back his Central Contract."
The BCCI official also said that the cricket body was not willing to pre-empt the outcome of Kolkata Police's investigation.
Will Shami be part of IPL 2018
Indian Premier League (IPL) governing council chairman Rajiv Shukla also reiterated BCCI's stand, saying they "have nothing to do with anybody's private life". He insisted that ACU's report on the issue will be out in the "next four-five days" and that Shami will continue playing IPL if he gets "a clean chit".
Shami was bought for Rs 3 crore using Right To Match card by Delhi Daredevils at February's auction in Bengaluru.
The Gautam Gambhir-led franchise said last week it was unsure of Shami's IPL future, days after the BCCI decided to withhold the fast bowler's name from the list of centrally contracted players. He was not part of the 26-member list, who had received new contracts and pay hikes last week.
Meanwhile, Shami received the backing of former World Cup-winning captains MS Dhoni and Kapil Dev, who refused to believe the allegations of match-fixing against the India cricketer.
The latter even questioned why Jahan had waited this long to report the incident long after she came to know about it.