The scandal surrounding Harvey Weinstein is growing by the day, as more revolting revelations about sexual assault and harassment by the Hollywood tycoon emerge.
Several Hollywood actresses and even some media professionals have opened up against the disgraced movie mogul, with allegations that include rape.
Also read: Harvey Weinstein sexual assault scandal: From Angelina Jolie to Mira Sorvino, women who shared their stories
Recently, British model Cara Delevingne came forward to describe how she once narrowly escaped sexually harassment at Weinstein's hands. The 25-year-old model-turned-actress took to Instagram to share her story and add to the growing number of allegations against Weinstein.
In a statement, the actress detailed she once received a call from him asking if she had slept with any of the women she was seen with in public. She described the phone call as being "very odd and uncomfortable."
She added in the statement: "A year or two later, I went to a meeting with him in the lobby of a hotel with a director about an upcoming film. The director left the meeting and Harvey asked me to stay and chat with him. As soon as we were alone he began to brag about all the actresses he had slept with and how he had made their careers and spoke about other inappropriate things of a sexual nature."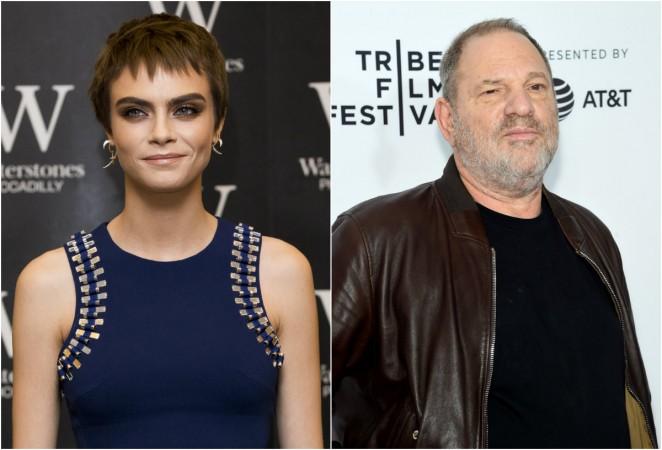 She went on to detail: "He then invited me to his room. I quickly declined and asked his assistant if my car was outside. She said it wasn't and wouldn't be for a bit and I should go to his room. At that moment I felt very powerless and scared but didn't want to act that way hoping that I was wrong about the situation. When I arrived I was relieved to find another woman in his room and thought immediately I was safe. He asked us to kiss and she began some sort of advances upon his direction."
The Tulip Fever star further said she got out of the situation by suddenly singing. Then immediately after that when the actress asked to leave, Weinstein walked her to the door and attempted to kiss her on the lips.
"I stopped him and managed to get out of the room," the actress summed up.
The actress also admitted that she still earned the part in the movie (Tulip Fever, which was produced by The Weinstein Company) and still feels guilty about it.
While Delevingne revealed she was a bit hesitant about speaking out her experience, she added in another Instagram post that women should always open up about such things as "not talking about it will always cause more damage."
Another Hollywood actress, Léa Seydoux (Spectre), accused the Hollywood producer with actions that seemed to mirror Delevingne's experience.
"He tried more than once," she added. "I pushed him physically. I think he respected me because I resisted him."
The Blue Is the Warmest Colour actress did not specify how she got out of the situation as she could not recall the entire incident.
The actress added: "That's the most disgusting thing. Everyone knew what Harvey was up to and no one did anything. It's unbelievable that he's been able to act like this for decades and still keep his career."
The Hollywood mogul has now been accused by more than a dozen women including Hollywood A-listers Angelina Jolie and Gwyneth Paltrow of making unwanted sexual advances during business meetings.
Weinstein hasn't yet responded to these allegations.
His spokeswoman had earlier said: "Any allegations of non-consensual sex are unequivocally denied by Mr Weinstein."