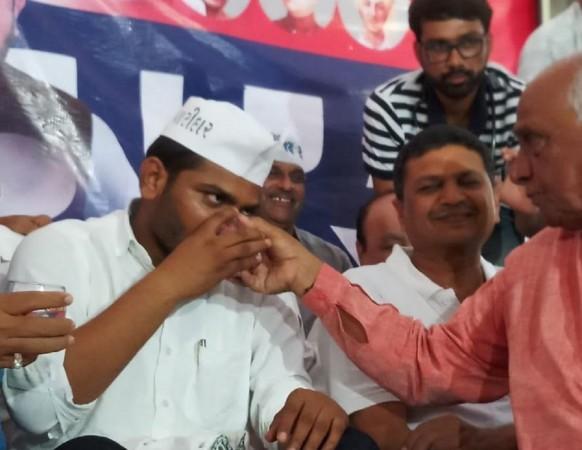 PAAS leader Hardik Patel broke his indefinite hunger strike on Wednesday, September 12, after 19 days. Patel ended the fast in the presence of Khodaldham trust chairman Naresh Patel and other trustees of the Patidar trust.
Earlier in the day, the young Patidar leader had announced that he will be breaking his fast at 3 pm in the afternoon on Wednesday, September 12, since he had been persuaded by his supporters to break his fast so that he can live to fight another day. His supporters, according to his twitter post, told him to stay healthy to fight a longer battle.
Patel took to his Twitter handle and said that he can give his life for those who love him and want him to stay alive but he won't die for the ones who want to kill him.
Patel had gone on an indefinite hunger strike on August 25 to demand reservations for the Patidar community and loan waivers for farmers in the state.
During the days of his hunger strike, the leader got support from a few BJP leaders including Shatrughn Sinha and former BJP veteran Yahwant Sinha but no body from the union government responded to his demands or went to hold a dialogue with him. Noted personalities like Prakash Ambedkar, Harish Rawat and Jignesh Mevani had also gone to meet him during his fast period.
However, the Gujarat government did not hold any dialogue with Patel and asked CK Patel of the Vishv Umiya Foundation to mediate talks between the state government and Patel. However, Patel refused to have any kind of mediator.
After his demands had gone unheard and his health had started to deteriorate, Patel had also declared his will in which he had said that he wanted to domate his eyes after his death. He had also said that his property should be distributed between his parents, sister and families of 14 Patidar youths who were killed in the reservation agitation in 2015, in the event of his death.