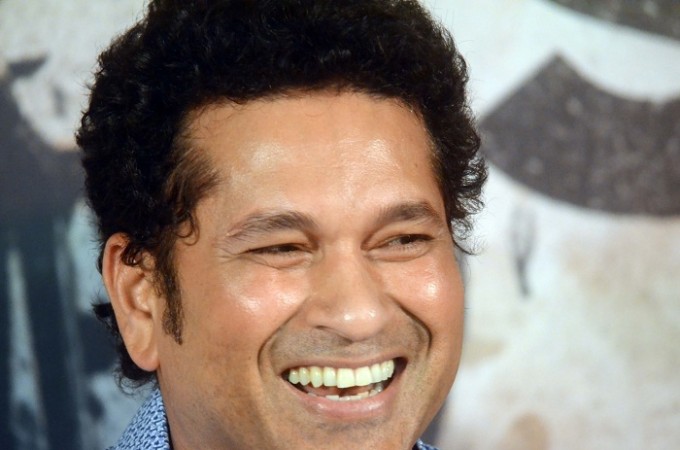 Sachin Tendulkar might have played his last match for India in 2013, and four years may have passed since his final appearance, but he still remains one of India's favourite sons. The Little Master turned 44 on Monday, and cricketers are taking some time out to wish the icon of Indian cricket on his birthday.
The chants of 'Sachin, Sachin, Sachin' still rings in our years, and there are times when the former star comes to watch cricket matches and there is a loud cheer whenever he is shown on the giant screen. That is the love, which Tendulkar has gained over the years for the way he shouldered the responsibility of Indian cricket for more than two decades.
Such has been Tendulkar's success that a biographical film, Sachin: A Billions Dreams, on the life of the Little Master has been produced, which will be released on Wednesday.
Tendulkar's international cricket journey started against arch-rivals against Pakistan in 1989 as a 16-year-old boy, and he never looked back ever since his maiden appearance.
The Mumbai man went on to play 200 Test matches for India and 463 ODIs. People were habituated to seeing Tendulkar dominate bowlers, who had nightmares about bowling to him.
Tendulkar scored 15,921 Test runs and 18,426 ODI runs. He holds the record for the highest run-scorer in both the formats, and it would take someone special to beat this feat.
Besides this, Tendulkar has 49 ODI and 51 Test centuries, which is another major milestone in his career.
However, these are records, which everyone will be proud of, but Tendulkar's biggest achievement must be the ICC World Cup 2011, where India emerged victorious. Indian cricketers had then carried Tendulkar on their shoulders, and dedicated that triumph to the legend, who always wanted to lift aloft the trophy.
Many more happy returns of the day @sachin_rt , April 24th should be marked as Indian cricket day. I was lucky to have played along side you

— Ashwin Ravichandran (@ashwinravi99) April 24, 2017
Grew up believing 'Sachin hai toh India Jeet jayega' Had the privilege to play alongside & know the person he is. Happy Birthday, @sachin_rt

— Aakash Chopra (@cricketaakash) April 24, 2017
Happy bday to the great @sachin_rt, 44 years young today. Hope you have a great day and year to come mate! ?

— Michael Clarke (@MClarke23) April 24, 2017