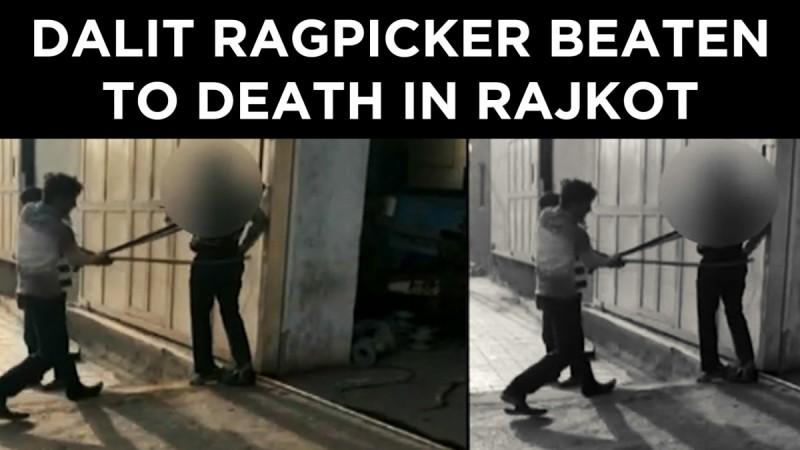 A 40-year-old Dalit ragpicker was mercilessly flogged to death allegedly by factory workers in the Shapar-Veraval industrial area of Rajkot district, Gujarat, on May 20. The incident, which occurred on a Sunday morning, is said to have happened when the man who was collecting trash from the industrial area, reportedly got into an argument with the workers of a factory nearby.
The ragpicker identified as Mukesh Savji Vaniya along with his wife, Jaya and her acquaintance Savita had gone to pick trash from the factory. However, when the factory workers confronted them, they got into an argument with the trio. This was followed by the two women being driven away from the place while the man was later tied and flogged to death, News 18 reported.
The video of the men beating the 40-year-old went viral across social media platforms. This was followed by the local police launching an investigation into the matter.
Based on the complaint filed by Vaniya's wife, the local police registered a case under section 302 (murder) of the Indian Penal Code and the Scheduled Castes & Scheduled Tribes (Prevention of Atrocities) Act, News 18 reported.
"The exact reason for the altercation has not become clear so far. But the complainant has alleged that it was something related to picking rags around the factory. The two women returned to the spot along with some male members when they found Mukesh lying on the ground," RG Sindhu, a police officer, was quoted as saying by The Indian Express.
"They took him to Rajkot Civil Hospital where the doctors declared him brought dead. We have registered a case against unidentified persons and are waiting for the post-mortem results. The body had wounds that could have been caused by blunt objects like sticks," he further added.
The police have arrested four suspects in connection with the case. Another suspect, who is reportedly a minor, was also detained. A murder case has been filed under the SC/ST Act and a deputy rank officer will probe the case.
Meanwhile, Dalit leader and MLA Jignesh Mevani express grief over the incident.
This is far more gruesome incident than Una. In Una, the victims were beaten up and humiliated. Whereas, here a man lost his life amidst caste violence. While, Mr. Mukesh Vaniya belonging to a scheduled caste was miserably thrashed and murdered by factory owners in Rajkot, his wife was brutally beaten up. The government of Gujarat has still not learned from its past mistakes.