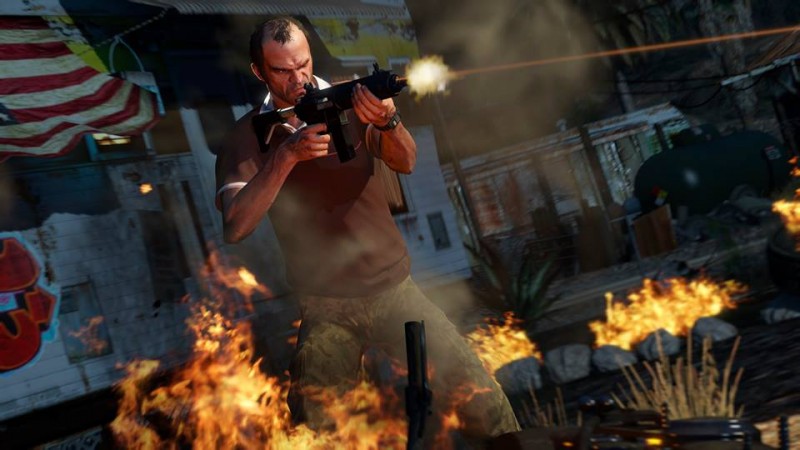 GTA 5 PC's release on 14 April was sadly bogged by certain issues hampering the game installation on PC. Error messages greeted many players leaving them annoyed.
But Rockstar was quick enough to suggest workarounds for issues that allowed players to install and go ahead and play the popular game that had faced numerous delays before its eventual launch.
Nevertheless, as previously promised by the company it has rolled out its first patch titled Patch 1.01, which has already gone live on PC platforms.
Players of GTA 5 on PC will be happy to note that the new update has patched issues like the crashing of GTA 5 Launcher, drop in framerate, sudden changes in character's facial features when undergoing PC transfer, issues in Rockstar Editor, Windows usernames causing Launcher failure, garage replacement issue and prepares ground for iFruit support.
[Read More: GTA 5 PC: Guide to Maximising Framerate, Pop-In Fix]
GTA 5 PC players must also note that the new patch will weigh 357MB for those who purchased the game through Rockstar Warehouse and it weighs 207MB on Steam.
Though some players faced issues during the game launch, it was stable release for many others. The game now has more than 300,000 concurrent players on Steam.
[Read More: GTA 5 PC: List of Command Lines; Cheat Codes]
Below are the full patch notes for GTA 5 PC's Patch 1.01 (Rockstar Support):
Fixed an issue where the GTAV Launcher would use an abnormally high percentage of CPU and sometimes crash
Fixed an issue where frame rate would drop when left-clicking the mouse while driving
Added a grid to the Golf mini-game to show the topology of the green while putting
Fixed an issue where a character's eyebrows or other facial features could change erroneously when transferred to PC
Fixed an issue where a some players were asked to transfer their GTA Online character while a transfer was already in progress
YouTube uploads via the Rockstar Editor will now correctly resume if Internet connection is lost during the upload and later restored
Fixed a rare issue where the game could crash while using the Rockstar Editor
Projects containing deleted clips will now load properly in the Rockstar Editor and warn the player of the missing clips
Fixed an issue where birds were not recorded correctly in Rockstar Editor clips
Corrected an issue where certain characters in Windows usernames would cause the Launcher to fail to load or other undesired game behavior. For details, see this page.
Fixed an issue where players with one garage would not be able to replace an existing vehicle if the garage was full and the new vehicle was purchased from an in-game website
Additional fixes to prepare for iFruit support
Crew Tire Smoke can no longer be purchased if you are not in a Crew