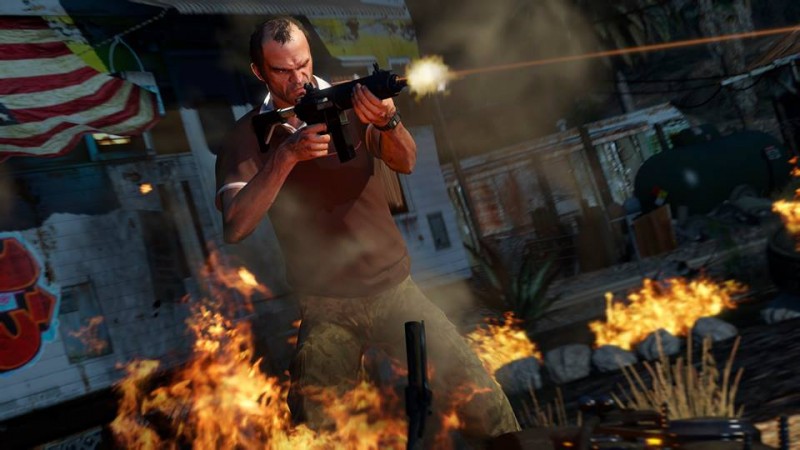 The wait for GTA 5 PC players is now over with the release of the PC edition of the popular game from Rockstar. GTA 5 PC was released on PC for 14 April 2015.
Here we provide with the comparison between PC vs PlayStation 3 vs PlayStation 4 and how lights flash in Logitech G910 keyboard when in wanted level of GTA 5 PC.
Complete List of Command Lines and Default Controls
Players, leaning on information to know the list of Command Lines and how these can be used in GTA 5 PC, will be happy to find the below list.
Also, players, who want to know the default controls in GTA 5 PC, will also find them in the guide-lines below.
How and Where to use Command Lines
Players can add the Command Line parameters to the "commandline.txt" file. This is in the root of the game folder. However, if there is no file, players can also create one. In order to create it, they have to right-click in the game-install directory, and then select New >> Text Document.
Now they have to rename this file as commandline.txt. Below are some of the different command lines that players can use:
UseAutoSettings:
Use automatic generated settings
benchmark:
Starts the benchmark test from the command line
benchmarkFrameTimes:
Optionally output the individual frame times from the benchmark
benchmarkIterations:
Specifies the number of iterations to run the benchmark for
benchmarkPass:
Specifies an individual benchmark scene test should be done, and which test that should be
benchmarknoaudio:
Disable audio processing for graphics benchmark purposes
disableHyperthreading:
Don't count hyperthreaded cores as real ones to create tasks on
goStraightToMP:
Jump straight to MP while loading
ignoreDifferentVideoCard:
Don't reset settings with a new card
ignoreprofile:
Ignore the current profile settings
mouseexclusive:
Game uses mouse exclusively.
noInGameDOF:
Disable In-game DOF effects
safemode:
Start settings at minimum but don't save it
shadowSoftness:
Selects between linear, rpdb, box 4x4, soft 16
uilanguage:
Set language game uses
useMinimumSettings:
Reset settings to the minimum
HDStreamingInFlight:
Enable HD streaming while in flight
SSA:
Enable SSA
SSAO:
Set SSAO quality (0-2)
anisotropicQualityLevel:
Set anisotropic Filter Quality Level (0-16)
cityDensity:
Control city density (0.0 - 1.0)
fogVolumes:
Enable lights volumetric effects in foggy weather
fxaa:
Set FXAA quality (0-3)
grassQuality:
Set grass quality (0-5)
lodScale:
Set LOD Distance Level (0.0-1.0f)
particleQuality:
Set particle quality (0-2)
particleShadows:
Enable particle shadows
pedLodBias:
Set Pedestrians LOD Distance Bias (0.0-1.0f)
postFX:
Set postFX quality (0-3)
reflectionBlur:
Enable reflection map blur
reflectionQuality:
Set reflection quality (0-3)
shaderQuality:
Set shader quality (0-2)
shadowLongShadows:
Enable shadow rendering for dusk and dawn
shadowQuality:
Set shadow quality (0-3)
tessellation:
Set tessellation on or off (0-3)
textureQuality:
Set texture quality (0-2)
txaa:
Enable NVidia TXAA
vehicleLodBias:
Set Vehicles LOD Distance Bias (0.0-1.0f)
waterQuality:
Set water quality (0-1)
keyboardLocal:
Sets the keyboard layout to the specified region.
hdr:
Set the whole rendering pipeline to 16-bit
noquattransform:
Don't use quaternion transforms for placed entities
DX10:
Force 10.0 feature set
DX10_1:
Force 10.1 feature set
DX11:
Force 11.0 feature set
GPUCount:
Manual override GPU Count
adapter:
Use the specified screen adapter number (zero-based)
borderless:
Set main window to be borderless
disallowResizeWindow:
Do Not allow the window to be resized
frameLimit:
number of vertical synchronizations to limit game to
fullscreen:
Force fullscreen mode
height:
Set height of main render window (default is 480)
multiSample:
Number of multisamples (1, 2, 4, 8, or 16)
width:
Set width of main render window (default is 640)
windowed:
Force windowed mode
StraightIntoFreemode:
If present the game will automatically launch into the multiplayer game in freemode.
Default PC Controls in GTA 5 PC
Caps Lock – Special Ability
Space – Jump/handbrake
V – Change view
Shift – Sprint
L-Alt – Character switch
Q – Cover
L-Click – Fire Weapon
R-Click – Aim/zoom
M-Click – Phone
WASD – Forward, backward, strafe left, strafe right
F – Enter/exit vehicle
R – Reload
Tab – Weapon Wheel
1,2,3,4 etc – Quick switch weapon category
M – Player interaction menu
M-scroll – Quick switch weapon
M-scroll (zoomed) – Aim mode
Rockstar DIRECTOR MODE Default Controls:
Director Mode Menu - M
Speech - L Ctrl
Action - Caps
RECORDING
Start Recording - F1
Stop Recording - F1
Cancel Recording - F3
Turn on Action Replay - F2
Save Action Replay - F1
Turn Off Action Replay - F3
TIMELINE
Edit a Clip - Enter / Left Mouse
Delete a Clip - DEL
Trim Audio or Text Start - Hold Q
Trim Audio or Text End - Hold E
Trim Clip Manually - [ / ]
Switch between Timeline & Menu - ESC / Right Mouse
Control Playhead - Mouse wheel
Navigate Timeline - WSAD / Cursor Keys
Pick Up a Clip - L Ctrl + X / Drag Left Mouse
Place a Clip - L Ctrl + V / Enter / Left Mouse
Duplicate a Clip - L Ctrl + C
Snap Trim Audio Clip - Cursor Left / Cursor Right
Preview Audio Clip - Space
Stop Audio Clip Preview - Space
CLIP EDIT MODE
Play Clip - Space
Pause Clip - Space
Cycle Markers - [ / ]
Add Marker - M
Select Marker - Enter / Left Mouse
Delete Marker - DEL
Move Marker - Drag Left Mouse
Scrub - Mouse Wheel
Scrub Fine - Cursor Left / Right
Hide HUD - H
Save - F5
EDIT FREE CAMERA
Move - WSAD
Rotate - Hold Left Mouse
Height - Q / E / Mouse Wheel
Zoom - Z / C
Roll - Cursor Left / Right
Reset Camera - L Ctrl
Save - F5
EDIT FREE CAMERA
Orbit Target - WSAD
Offset Target - Hold Left Mouse
Move In / Out - Cursor Up / Down
Height - Q / E / Mouse Wheel
Zoom - Z / C
Roll - Cursor Left / Right
Reset Camera - L Ctrl
EDIT PRESET CAMERA
Move In / Out - Cursor Up / Down
Zoom - Z / C
(Reset Camera - L Ctrl
[Gamepur]
Cheat Codes for Invincibility, Maximum Health and More
Reports suggest that the cheat codes for GTA 5 PC is out. If players want to activate a particular cheat then they have to pull out their in-game phone by pressing UP Arrow. Then head to Contacts and press middle mouse button that will bring up the dial pad (or 'X' for Xbox controller).
Complete List of Cheat Codes:
Increase Wanted Level: 1-999-3844-8483 (FUGITIVE)
Invincibility (Only lasts about 5 minutes): 1-999-724-654-5537 (PAIN KILLER)
Max Health and Armor: 1-999-887-853 (TURTLE)
Fast Run: 1-999-228-2463 (CATCH ME)
Recharge Special Ability: 1-999-769-3787 (POWER-UP)
Give Parachute: 1-999-759-3483 (SKY-DIVE)
Skyfall ((Spawns you mid-air)): 1-999-759-3255 (SKY-FALL)
Explosive Melee: 1-999-4684-2637
Flaming Bullets: 1-999-462-363-4279 (INCENDIARY)
Slow Motion Aim: 1-999-332-3393 (DEAD-EYE)
Drunk Mode: 1-999-547867 (LIQUOR)
GTA V PC World Cheat
Change Weather (Cycles through sunny, clear, cloudy, smoggy, overcast, rainy, thunder, clearing, and snowing): 1-999-6253-48-7246 (MAKE IT RAIN)
Moon Gravity: 1-999-356-2837 (FLOATER)
Slide Cars (Your car has less friction): 1-999-766-9329 (SNOWDAY)
Slow Motion (Effect increases each time it is entered, 4th time returns the game back to normal): 1-999-756-966 (SLOW-MO)
GTA V PC Spawn Vehicles Cheat
Buzzard (Attack Helicopter): 1-999-289-9633 (BUZZ-OFF)
Comet (Sports Car): 1-999-266-38 (COMET)
Sanchez (Dirt Bike): 1-999-633-7629 (OFF-ROAD)
Trashmaster (Trash Truck): 1-999-872-433 (TRASHED)
Stretch (Limousine): 1-999-846-39663 (VINEWOOD)
Mallard (Stunt Plane): 1-999-2276-78676 (BARN STORM)
Rapid GT (Sports Car): 1-999-727-4348 (RAPID-GT)
PCJ-600 (MotorCycle): 1-999-762-538 (ROCKET)
BMX (Bike): 1-999-226-348 (BANDIT)
[Gamepur]
Guide to Spend Pre-order Bonus
GTA 5 PC players who are looking at ways to spend the bonus pre-order GTA money ($1M online, $500K story, depending on the Tier) now have a guideline on how to use it appropriately.
So first let us see on what tier each one of them falls in:
Tier 1: Preorder by 1st February
$500k for single-player Story Mode
$700k for GTA Online
Extra $300k for GTA Online
Free bonus game from list
Tier 2: Preorder by 31st March
$500k for single-player Story Mode
$700k for GTA Online
Extra $300k for GTA Online
Tier 3: Preorder by 14th April
$500k for single-player Story Mode
$700k for GTA Online
Extra $150k for GTA Online
One of the best ways to spend the pre-order bonusis to:
Buy 200K Apartment that has a 10 Car Garage.
Buy weapons.
Once you are level 12, complete the first heist and buy the Armored Kuruma and upgrade to your liking.
[Gamepur]
Comparison Screenshots of PC vs PlayStation 3 vs PlayStation 4
Reddit user PunxGamer has revealed screenshots comparing PC vs PlayStation 3 vs PlayStation 4. The images clearly show the visual superiority of the game on PC.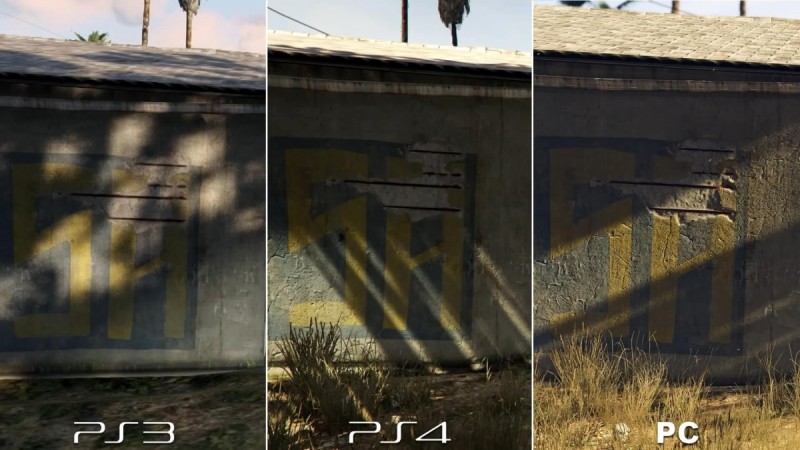 Keyboard Lights Flash in Wanted Level
A Reddit user, blow_me, has shared a small video that shows how the keyboard lights flash in red and blue when the wanted level goes up. It must also be noted that players can enable/disable this option. They can enable/disable under this - Keyboard/Mouse tab > Auto centre mouse in aircraft slider > Keyboard Light effects.
The keyboard being used is Logitech G910 Orion Spark. Players can enable 'Application controls lighting' in the Logitech Gaming Software.
Rockstar Video Editor Trailer
Rockstar has released a trailer that shows how versatile and potential the new video editor in GTA 5 PC is. This video allows players to record, edit, and share videos created from game footage.
Check out the below video:
[YouTube Courtesy: Rockstar Games]