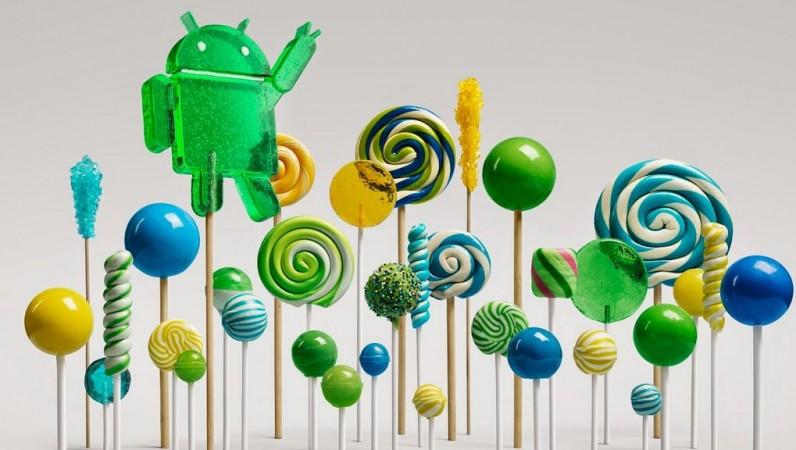 Last month, Google's Android launched the company sweetest OS (Operating system) treat yet - Lollipop.
As reported before, Motorola Nexus 6 and HTC Nexus 9 will come with Lollipop 5.0 OS out-of-the-box. Many Android device owners will be anxious to know whether they would be able to experience the new Lollipop OS, which is said to be most significant upgrade over previous versions.
To dissipate some of our reader's anxiousness, we have sifted through multiple reports to give a perspective on estimated time-line and select Android devices, which are most certain to get the new update.
Here is list of the select Android devices which are slated to receive Google Lollipop 5.0 update:
Google Nexus devices:
Google Nexus devices were supposed to get the new update on 3 November, but owing to major bugs found in the firmware, the OTA (Over-The-Air) release was pushed back by a week.
It was learnt that some Nexus 5 test models exhibited fast battery draining up on activation of Wi-Fi. Later it was fixed and finally on 12 November the company began rolling out the OTA update to Google Nexus 5, 4, Nexus 7 (2012 and 2013 editions), and Nexus 10.
[Read More Here: Nexus Devices Running Android 5.0 Lollipop Facing Wi-Fi Connectivity Issue]
Google Play edition devices HTC One M7 and M8 were supposed to get the update last Friday (21 November), but has been temporarily put on hold due to the untimely discovery of an unknown bug.
Mo Versi, VP of Product Management at HTC, confirmed the news while replying to HTC One M8 owner.
"@AshDeezy @htc Sorry Ash, New SW required. Will advise once approval from Google is received. Thanks." Reads the Mo Versi's Twitter post
Other GPE devices such as Sony Xperia Z Ultra, Samsung Galaxy S4, LG G Pad 8.3, Motorola Moto G are expected to get the new update in a few days time.
Since the OTA process is carried out in phases, it will take some time to reach all regions. Until then, users can keep a tab on update notifications on their device by going to –
Settings >> About Device >> System Updates >> Check now
For those who have not yet received the OTA update on their Nexus devices and are getting impatient, they can go to Android developer's page to manually download the new v5.0 Lollipop for their respective devices.
[Disclaimer: This procedure is very technical and should be performed by a person with sound knowledge of manual software installation of Android devices. If the installation process is not followed properly, there are chances of the device getting bricked or becoming permanently irreparable. International Business Times, India Edition, cannot be held responsible for any damage or claims from readers if the procedure does not yield the required results or if devices get bricked. Hence users are advised to proceed with caution or just wait for a day or two to install the new software with less effort via OTA.]
Here are the details of the software update released to Nexus devices:
| | | | |
| --- | --- | --- | --- |
| Model | Device Type | Software build number and version | Factory images Download link |
| LG Nexus 5 aka 'Hammer Head' | GSM/LTE | 5.0 (LRX21O) | Link |
| Asus Nexus 7 (2013) aka 'Razor' | Wi-Fi | 5.0 (LRX21P) | Link |
| LG Nexus 4 aka 'Occam' | GSM | 5.0 (LRX21T) | Link |
| Samsung Nexus 10 aka 'Mantaray' | Wi-Fi | 5.0 (LRX21P) | Link |
| Asus Nexus 7 (2012) aka 'Nakasi' | Wi-Fi | 5.0 (LRX21P) | Link |
Note: Google is yet to provide the factory image file to cellular versions of Nexus 7 (2013) aka 'Razorg' and Nexus 7 (2012) aka 'Nakasig'. [More Information HERE]
Android One smartphones:
During the launch of Android One series devices - Micromax Canvas A1, Karbonn Sparkle V and Spice Dream UNO - at New Delhi in August, Google had confirmed that these devices will also get the new Lollipop update.
In that Google's Android One JV partner, Spice Mobility in an interaction with India Today re-iterated the same announcing that Dream UNO will get the new OS around January-end.
We plan to provide Lollipop in our Android One devices around January 2015 and the update will be available for all Dream Uno users in India," said Prashant Bindal, CEO, Spice Mobility.
Since Dream UNO was launched along with Micromax and Karbonn devices, Google is most likely to release Android 5.0 to Canvas A1 and Sparkle V at the same time.
Samsung devices:
Last month, the South Korean company via Twitter hinted that the new Galaxy Note 4 will get the Android 5.0 Lollipop update, most probably by December-end.
Samsung in its Twitter message has posted a Galaxy Note 4 with the wallpaper showing Lollipop candies with a caption – "Anyway you look at it, the #GALAXYNote4 Quad HD Super AMOLED display is pretty sweet. #NoteTheDifference".
Going by the cryptic message, the company is hinting the flagship phablet will be receiving the new Android v5.0 OS update pretty soon.
If sources of SamMobile are to be believed, Galaxy S5 and its predecessor S4 are expected to get the Android 5.0 firmware by December-end and early 2015 respectively.
If Galaxy S4 is getting the update then by logical intuition Galaxy Note 3, which debuted later in September 2013, is also certain to receive the new firmware.
As per SamMobile's sources, the Note 3 is also slated to get the new Multi-Window feature from Galaxy Note 4 and other S-Pen related features as well.
2014 flagship tablet - Galaxy Tab S series - slates in all probability will also be able to savour the sweetness of Android Lollipop by December or early 2015.
Motorola smartphones:
The American technology major, Motorola (now a subsidiary of Lenovo) was the first Android OEM (Original Equipment Manufacturer) affiliate to confirm the release of Android Lollipop OS update to its devices.
Staying true to its promise, the company officially rolled out the new firmware to Moto X (Gen 2). Pure Edition, Moto G (Gen 2) US GSM and Moto G global GSM retail versions have been sold in the US.
Whereas the first generation Moto X, Moto G, Moto E, the Droid series Ultra, Maxx and Mini will get Lollipop most probably by Decemeber.
The company has even opened a dedicated Android 5.0 Lollipop OS update support page to help consumers track the availability of Android 5.0 Lollipop on smart devices. [For more information, Motorola device owners can head over HERE].
Sony Smart Devices:
Soon after the Lollipop announcement on 15 November, The Japanese consumer electronics firm via official blog confirmed to roll out the new Android OS firmware to all of its 15 Sony Xperia Z-series smartphones.
Sony has already begun a pilot program in joint venture with carrier network Three in Sweden giving select fans the chance to test drive Xperia Z3 and Xperia Z3 compact devices running the early versions of Android 5.0.
All Z series devices - Xperia Z Ultra GPE (Google Play Edition), Xperia Z, Xperia ZR, Xperia ZL, Xperia Z1, Xperia Z1s, Xperia Z Ultra, Xperia Z1 Compact, Xperia Z3v, Xperia Z3 Compact, Xperia Z3 Tablet, Xperia Tablet Z, and Xperia Z2 Tablet are slated to get the new update in January 2015, starting with Xperia Z3, Z2 and then to others.
[Also read: Sony Releases Android 5.0 Lollipop Video Teaser; Select Xperia Z Devices to Get OS Update Early 2015]
HTC:
The Taiwanese company has confirmed that HTC One M7 (2013) and One M8 (2014) will get an update within 90 days of the release of Kernel code by Google.
"We have the Android Lollipop code. We'll be updating the HTC One (M8) & (M7) within 90 days from today. #HTCAdvantage", said the company via official Twitter handle.
Other HTC smartphones that are certain to taste the Lollipop candy OS are One Mini (2013 and 2014 editions), HTC One Max. Its information is inferred from the fact that these devices are part of HTC Advantage scheme.
[Note: Any device under HTC Advantage scheme will have the privilege of extra Google Drive space (25 - 100GB), cloud back up facility, two-year Android update service, live help (depending on the region), for more information head over HERE]
Last month, HTC's internal document containing the alleged Lollipop roll-out schedule details surfaced online revealing numerous names of the devices expected for the new update.
HTC smartphone Android Lollipop update ETA (Estimated Time of Arrival) schedule details:
| | |
| --- | --- |
| HTC Models | Time-line |
| HTC One M7 and M8(Google Play editions) | November-December 2014 |
| HTC One M7 and M8 with Sense UI | January-February 2015 |
| HTC Desire Eye, dual-SIM models of HTC One –M7 and M8, HTC One E8 (both single-SIM and dual-SIM) and HTC Butterfly 2 | January-March 2015 |
| HTC One Mini 2 and Desire 816 | March-April 2015 |
| HTC One Max, HTC One Mini and HTC Butterfly S | March-May 2015 |
| Other MediaTek CPU powered HTC Desire devices | Still under evaluation |
Asus:
Last month, the Taiwanese company (via official blog) confirmed that Google's latest mobile OS update roll-out process will begin in April 2015, starting with Zenfone series 4, 5, 6, Padfone S (PF500KL) and later in June for Padfone Infinity (A89).
Android 5.0 Lollipop OS update rollout time-line details of Asus devices:
| | |
| --- | --- |
| Models | Time-line |
| Asus Zenfone 4 (A400CG/A450CG) | April, 2015 |
| Asus Zenfone 5 (A500CG/A501CG) | April, 2015 |
| Asus Zenfone 5 LTE (A500KL) | April, 2015 |
| Asus Zenfone 6(A600CG/A601CG) | April, 2015 |
| Asus Padfone S (PF500KL) | April, 2015 |
| Asus Padfone Infinity (A89) | June, 2015 |
OnePlus:
OnePlus One is also slated to get the new CyanogenMod-based Android 5.0 Lollipop custom ROM within three months.
LG Smartphones:
Besides Nexus 5 and G Pad 8.3 GPE, the South Korean company has confirmed to release Android 5.0 to 2014 flagship smartphone G3 this month beginning with Poland and later to other regions.
2013 marquee phone, LG G2 is also slated to receive the update as the company like other Android OEM affiliates are bound by an 18-month obligatory software upgrade service.
[Also read: Android 5.0 Lollipop: Top Key Features of New Google Mobile OS]
For the uninitiated, Google's new Android 5.0 Lollipop OS comes with an overhauled design language material design, bringing in interactive user-interface, visually appealing graphic design (with bold colours & typography), tactile surface, fluid animation features, replacement of Dalvik with ART as its default runtime and many more tweaks for performance enhancements.
Xiaomi Devices:
Xiaomi has already released the new Lollipop 5.0 to Mi2 series smartphones in the home market and now recent report from China indicates that the company is already hard at work to test its new OS on the former flagship smartphone Mi 3 soon. Once testing is completed, it's just a matter of a week or two before Xiaomi begins the roll-out process, considering that Mi2 received its Android 5.0 update just days after Google unveiled Lollipop OS on 15 October.
[Read More: Android 5.0 Lollipop OTA Release Update: Xiaomi Mi3 to Get New Firmware Soon].
Going by this pattern, Xiaomi Mi4 and Redmi 1S are also certain to get the new Lollipop update soon.