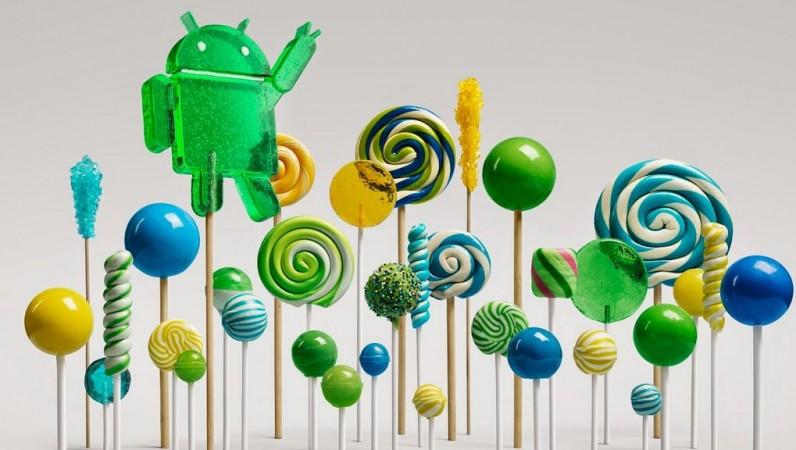 Just hours ago, search engine giant Google announced the Advanced Android OS 5.0 Lollipop with all new line of smart-devices - Motorola Nexus 6, HTC Nexus 9 and Asus Nexus Player (TV Set-top box).
Google's Android ecosystem is already the biggest mobile platform in the world, reportedly running on more than 80% smart-devices, now in its bid to widen the gap between rivals (Apple iOS, Windows Phone & BlackBerry) the new Android Lollipop OS comes with overhauled design language material design bringing interactive user interface, replacement of Dalvik with ART as its default runtime, performance enhancing algorithm and many more tricks.
Here are top key new features that have been brought into the new Android 5.0 Lollipop:
Material Design:
New bold, colourful and interactive UI design to make it consistent, so that users will have same experiences in all Android devices, whether it is on tablets, smartphones, car entertainment system or on Smart TVs.
Notifications:
New control options are brought in, so the user can choose how and when to receive any notifications/messages.
- He/she can directly view and respond from lock-screen and also an option to hide based on sensitive of the data from a particular person.
- New priority mode options activated via volume buttons lets user get calls/messages only from certain people during particular time. [ex: Schedule recurring downtime like 10pm to 8am when only Priority notifications can get through]
Battery:
New Lollipop OS update comes with battery saver options, which on activation extends phone battery life for close to 90 minutes. New options include display of time left for full charge and estimated time left in phone for functioning and get notification for charging your device.
Enhanced Security:
With the new update, all data and photo will be encrypted to save it during theft/loss of device.
- SELinux enforcement has brought in Android Lollipop to give protection against any vulnerabilities and malvare.
- New 'Android Smart Lock' feature has brought in for secure locking during wireless pairing of devices / smartwatch or car entertainment system.
Device Sharing:
A new Android Lollipop OS makes sharing more flexible.
- If anybody forget their phone, he/she still can call any of their friends (or access any of your messages, photos etc.) by simply logging into another Android phone running Lollipop.
- Another option - Guest user makes sure that your data remains secured, while the other uses your phone.
- Screen pinning option gives control over content in the device, which can be viewed/seen by others on your personal device.
New Quick Setting feature:
With new Android OS, users can access most frequented settings in just two swipe downs. Other features include:
- New handy inbuilt options flashlight, hotspot, screen rotation and cast screen controls introduced
- Easier on/off toggle control for Wi-Fi, Bluetooth and locations options
- Once done with manual adjustment of brightness, an adaptive brightness feature kicks-in based on ambient lighting
Connectivity:
New OS brings in efficient scanning for networks and wireless connection of devices
- Company says that enhanced network hand-off results in limited interruptions in connectivity, especially developed keeping in mind for video-chat/VoIP calls, so that there will continuous network connection he/she leave the house and switch from your home Wi-Fi back to cellular.
- Enhanced network selection algorithm has been introduced in the new OS, so that the device connects to verified internet hub or Wi-Fi hotspot.
- Power-efficient scanning for Bluetooth Low Energy (BLE) devices for smart wearables/beacons and in that order new BLE peripheral mode has been introduced.
Performance enhancement and new Runtime mode:
Every smart-device users know that new OS update will always bring performance improvements, but this time in Andoid Lollipop, Google has made some huge overhaul which include
- Replacement of Dalvik to ART, a new Android runtime to improve application performance and responsiveness, increase of 4X performance compared to previous update and makes complex UI simpler with rich eye-pleasing visual effects and optimization of back ground apps and services for multi-tasking purposes.
- The new OS support for 64-bit devices( case in point- Nvidia K1 powered HTC Nexus 9)
- Support for pure JAVA language apps to run on 64-bit apps
Media:
Android Lollipop brings bolder graphics and improved audio, video, and camera capabilities.
- OpenGL ES 3.1 and android extension pack for enhanced graphic output on par with desktop and console class performance
- Lower latency audio input to ensure music and communication applications having strict delay requirements provide good real-time experience
- New camera setting options like sensors, lens and flash per individual frame
- Support for two new raw formats- YUV and Bayer RAW
Android TV:
This feature brings Android to living room devices like smart TV. Features include-
- Voice search for Google Play, YouTube and other supported apps
- Console-style Android gaming on TV with supported gamepad
OK Google:
- For easy access of data and to perform task, new Lollipop OS can activate device (on sleep mode) using voice commands, provided devices have digital signal processing support like Moto X series smartphones and the new Nexus 6 and Nexus 9.
- With this feature user can send/answer calls/message or get direction details via voice commands
Accessibility:
The new OS brings enhanced features to help low vision and color blind population.
- Boost text contrast or invert colours to improve legibility
- Adjust display to improve colour differentition
More language support:
Now more than 68 languages are officially supported by Android OS; new ones include foreign languages including Basque, Burmese, Chinese (Hong Kong), Galician, Icelandic, , Kyrgyz, Macedonian, Nepali and Sinhala as well as Indian languages like Bengali, Kannada, Malayalam, Marathi, Tamil and Telugu
Google has also introduced one key bonus feature- an opt-in kill switch aka 'Factory Reset Protection', which will allow users to delete of device's sensitive data from remote location.
Other minor improvements include refurbished display features for battery, Bluetooth, data usage, Wi-Fi settings, improved Android Beam, new search functionality option in settings, improved hardware keyboard accessory support including support for multilingual, emoji input, search key, and improved app and system key chords.
[Note: new device level feedback feature has been introduced exclusively for Nexus devices]
[Also Read: Google Nexus 6, Nexus 9 with Android Lollipop OS Unveiled; Price, Availability, Specifications Details]
The company has confirmed that the new Android 5.0 Lollipop will be released to Nexus 5, 4, Nexus 7 (both 2012 and 2013 editions), Nexus 10 and other Google Play edition devices in coming weeks.
Other devices which are likely to taste the new candy flavoured Android OS are Moto X (2013 and 2014), Moto G (Gen 2. and Gen 1.), Moto E, HTC One (2013 and 2014), Galaxy S5, Galaxy Note 4, Note 3, Sony Xperia Z3 series devices, LG G3, Android One phones- Micromax Canvas A1, Karbonn Sparkle V and Spice Dream UNO and other select 2014 devices.