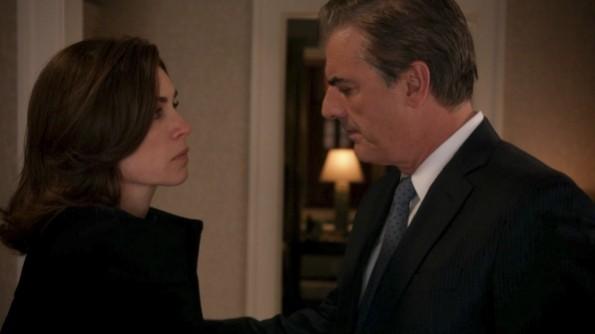 Peter Florrick (Chris Noth) and Alicia Florrick (Julianna Margulies) will have an onscreen power couple sequence in "The Good Wife" season 6 episode 9, which will be aired on 16 November.
The Governor of Illinois and his wife as well as the candidate for the state's attorney are expected to have a romantic sequence with a smooch and laughter in the ninth episode of the American legal drama series, reported TV Line.
Though no official announcement has been made by CBS on the power couple sequence yet, co-creator Robert King had previously indicated they were planning to explore the idea in season 6.
"Is it truly possible that you can have an agreement with your spouse that the sexual relationship is over and the love has to be put on hold, even though we're going to use each other for what power we can give each other. Chris and Jules seem very willing to take us there, so we're up for it," King had said.
However, Alicia seems to have a change in mood when Peter's old friend Ramona Lytton (Connie Nielsen) enters the scene and whispers in his ears.
Meanwhile, spoiler images also show Alicia and legal commentator Frank Prady (David Hyde Pierce) spending time together. Does this indicate that Alicia will succeed in her attempts to convince Prady to support her campaign for the state's attorney?
As per the official synopsis of "The Good Wife" season 6 episode 9, "Alicia faces a crisis of conscience when she's encouraged to go negative in her campaign for State's Attorney. Meanwhile, the Feds try to persuade Cary to work with them as they attempt to build a case against Lemond Bishop".
Watch the spoiler images of Peter-Alicia's power couple sequence here.