Gold prices in India, the second-largest consumer of the yellow metal, buoyed to a four-month high amid strong global cues and crossed the Rs 30,000-mark, gaining as much as Rs 325 on Saturday. The metal closed at Rs 30,175 per 10 gm while silver closed Rs 600 higher at Rs 43,800 per kg.
Interestingly, Telangana Chief Minister K Chandrasekhar Rao offered a "gold moustache (bangaru meesalu) worth Rs 60,000 at the Kuravi Veerabhadra Swamy temple in Mahabubabad district, shrugging off protests over his Rs 5.2 crore gold offering at the Tirupati temple a few days ago.
Read: Indian politician donates gold from government exchequer, sparks furore
The spurt was also attributed to strong buying by Indian jewellers.
For the past many sessions, gold prices did not cross the psychological mark of Rs 30,000 and was hovering around Rs 29,500 levels.
Apart from receding expectations of an interest rate hike by the US Federal Reserve that led to a weak US dollar and a spurt in gold prices, the possibility of political uncertainty in the upcoming elections has also strengthened the demand for the safe-haven metal.
"Even in the event of a rate increase, we doubt the precious metal will lose much ground ahead of the key presidential elections in France in April, coupled with the Washington gridlock that seems to be calcifying with greater intensity after each passing day," INTL FCStone analyst Edward Meir told Reuters.
Jewellery makers who are listed on Indian stock exchanges include Titan (Tanishq), PC Jeweller, Gitanjali Gems and Tribhovandas Bhimji Zaveri (TBZ).
In other news, TCS retained its position as the most-valuable companies of India as of February 23, 2017, while Reliance Industries Ltd. (RIL) dethroned HDFC Bank to occupy the second spot. Other companies among India's top 10 entities include ITC, Infosys, ONGC and State Bank of India.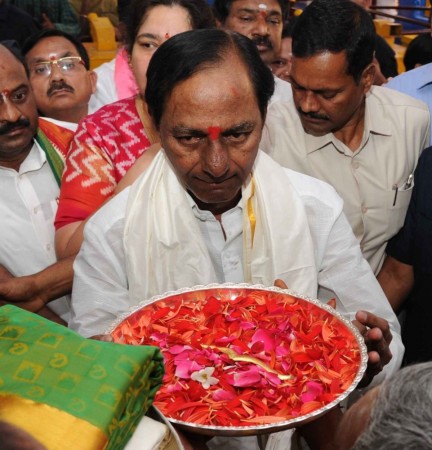 K Chandrasekhar Rao's gold moustache offering at a temple on Friday came after the whopping Rs 5.2 crore gold donation at the famous Tirupati temple two days ago. The chief minister offered gold ornaments including 14.20-kg saligram necklace costing about Rs 3.7 crore and 4.65 kg kanta abharanam costing Rs 1.2 crore. Besides, Rs 59 lakh were offered to other deities, all as thanksgiving for the creation of Telangana state in June 2014.