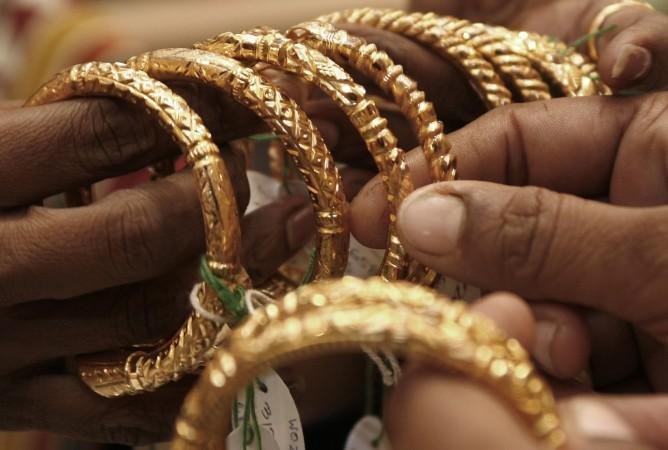 Gold prices rallied on Friday to cross Rs. 30,000 per 10 gm after staying below the psychological mark for three days. The yellow metal gained Rs. 200 to close at Rs. 30,050 per 10 gm in Delhi bullion market even as silver shed Rs. 600 and ended at Rs. 40,500 per kg.
Hardening prices have kept consumers away in India, the world's second-biggest consumer of gold. The yellow metal had less takers this Akshay Tritiya mainly due to prices prevailing high.
"This week's demand was better than last week as consumers were making purchases for Akshaya Tritiya. Year-on-year basis demand was much lower during the festival due to higher prices," Reuters quoted Aditya Pethe, a director at Waman Hari Pethe Jewellers, as saying on Friday.
Gold demand in India saw a 39 percent decline during the quarter ended March 2016. The fall in the jewellery segment was higher at 41 percent and hit a seven-year-low, according to the World Gold Council.
The fall was attributed to high prices and a long strike by gold jewellers to protest against the re-introduction of one percent excise duty.
The fall in retail sales has led to a domino effect on the trade.
"Jewellers have slowed down purchases. Retail demand is not picking momentum despite various promotional schemes launched by them," Reuters quoted a Mumbai-based bullion dealer with a private bank as saying.
Globally, gold prices are expected to hover in the range of $1,200 to $1,300 an ounce, according to financial news website MarketWatch.
The rise in gold prices on Friday coincided with the fall in Indian stock markets due to disappointing retail inflation and factory output data released on Thursday after trading hours.
The Sensex closed at 25,489, down 300 points, or 1.17 percent, from its previous close.