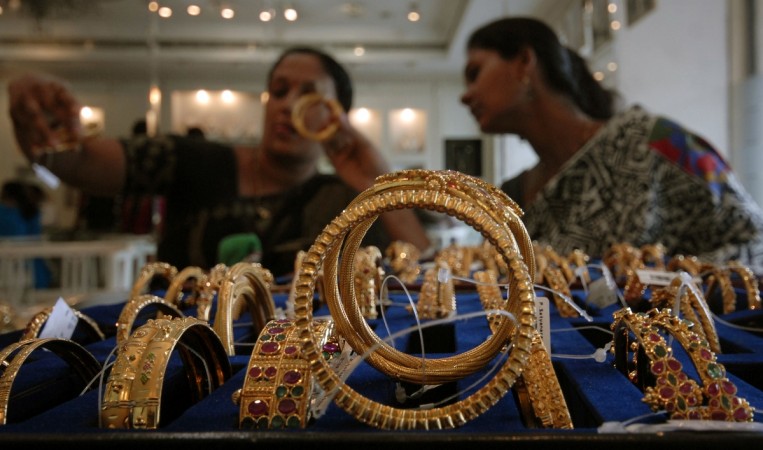 India's gold demand dropped sharply during the March 2016 quarter on account of a 19-day strike in March by the country's jewellers over the re-introduction of the one percent excise duty. The overall demand was 116.5 tonnes, down 39.2 percent from 191.7 tonnes during the March 2015 quarter, according to World Gold Council (WGC) data published on Thursday.
The fall in the jewellery segment was 41 percent in the quarter to 88.4 tonnes from 150.8 tonnes during the March 2015 quarter and hit a seven-year low.
"Q1 2016 saw Indian jewellery demand hit a seven-year low of 88.4t, a 41% year-on-year decline. This is 44% below the five-year quarterly average for India of 156.7t and indicates the extent of the troubles faced by that market during the quarter," the WGC report said.
The factors for the fall are fairly well-known.
"The sharp rise in the local gold price through a number of key levels was discouraging in itself," WGC said in its report.
"But the final blow came in the budget released on 29 February. In it the government proposed not only an increase in both custom and excise duties on doré (from 8% to 8.75% and from 9% to 9.5% respectively), but also — crucially — a 1% tax to be levied on jewellery manufacturing," it added.
Global demand rises
The WGC report said that demand for the yellow metal for the March 2016 quarter at a global level was up 21 percent at 1,290 tonnes, driven mainly by "huge inflows into exchange traded funds (ETFs), fuelled by investor concerns regarding economic fragility and an uncertain financial landscape."
However, the demand in the jewellery segment dropped 115 tonnes, or 19 percent, to 481.9 tonnes, year-on-year, mainly due to India and China. "Soaring gold prices, market disruption in India and supply-constraints in China combined to impede gold jewellery demand," said the WGC report.
Jewellery gold demand fell 17 percent to 179.4 tonnes in China during the March 2016 quarter from 216.3 tonnes in the year-ago period.
Globally, China and India are the top two consumers of gold.
June quarter forecast upbeat
The world gold body said demand is likely to pick up in the June quarter.
"The outlook for India is more positive: consumers are waiting for their opportunity to re-enter the market. The steep local price discount has already been largely eradicated. The industry expects the pent-up demand that accumulated during Q1 to be released in the coming weeks as the market adjusts to the new tax structure and buying for the wedding season gathers momentum," it said.
India FY16 gold imports
India imported 950 tonnes of gold in 2015-16, 9.5 percent down from 1,050 tonnes in the previous financial year. In value terms, gold imports stood at $31.7 billion, down from $34.3 billion in 2014-15.