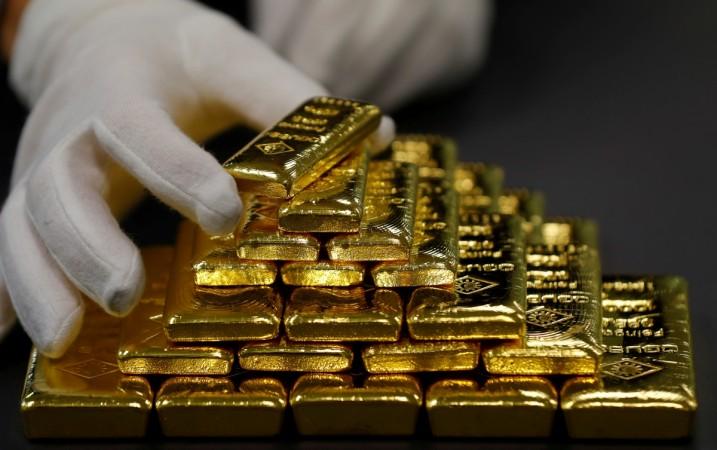 Gold prices fell on Tuesday as investors sought safety in the US dollar amid concerns of slowing global trade after the United States imposed a new round of tariffs on Chinese imports.
US President Donald Trump on Monday imposed 10 per cent tariffs on about $200 billion worth of Chinese imports and warned of more tariffs if China retaliated.
Spot gold fell 0.2 per cent at $1,198 an ounce at 0309 GMT, after rising 0.6 per cent in the previous session.
US gold futures were down 0.2 per cent at $1,203.90 an ounce.
"Gold is facing a couple of headwinds. The impending rate hike by the Fed is weighing on and obviously the escalation of trade conflict is pushing investors back into the U.S. dollar", ANZ analyst Daniel Hynes said.
"This (trade woes) has not helped gold prices at all. It is likely to be a pretty tough environment for gold in the next couple of weeks as it battles these two fronts."
Although gold is presumed to be a safe-haven asset, the months-long trade rift between Washington and Beijing has prompted investors to buy U.S. dollars in the belief that the United States has less to lose from the dispute.
Gold prices have declined over 12 per cent from April amid the intensifying trade dispute between the United States and China, the world's top two economies, and as rising US interest rates diminish demand for non-interest bearing bullion.
Bond traders are increasing bets the Federal Reserve will raise US short-term interest rates into 2019 as the jobs market tightens and with inflation seen climbing above its 2 per cent goal.
Gold is highly sensitive to rising U.S. interest rates as it increases the opportunity cost of holding non-yielding metal while boosting the dollar.
The dollar index, which measures the greenback against a basket of currencies, was up 0.1 per cent at 94.582.
"We remain wary about gold's upside here as we think that the trade picture will likely get worse before it gets better," INTL FCStone analyst Edward Meir said.
"Short interest is at a record high and so it will not take much for the complex to move up. Gold will need an upside trigger, which barring a very sharp sell-off in US equities, we don't see materializing anywhere on the horizon."
The number of net-short positions held by money managers in Comex gold futures is near their highest ever, according to data from the US Commodity Futures Trading Commission.
Among other precious metals, spot silver fell 0.4 per cent to $14.10 an ounce. Platinum was steady at $796, while palladium was flat at $983.40.