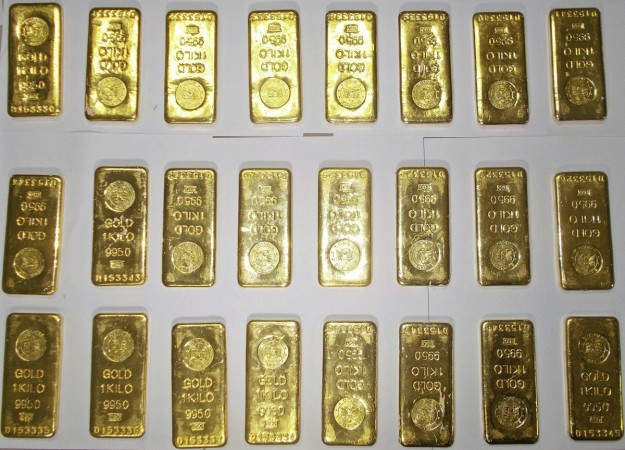 Three instances of gold smuggling detected by Union Finance Ministry's Directorate of Revenue Intelligence (DRI) in less than 30 days at Delhi, Chennai and Bengaluru prove that the practice continues to be rampant.
The latest incident comes from Bengaluru's Kempegowda International Airport where DRI officials found 45 gold bars worth Rs 1.65 crore taped to the seat of a 50-year-old passenger who had arrived by a Jet Airways flight from Abu Dhabi on Thursday. The seizure was based on a tip-off.
The passenger, Abhdul Rauf from Kodagu, was a frequent flier to West Asia and it is suspected that he could be part of a larger gang.
"The passenger was caught before he could exit the airport. Definitely, there seem to be some other people involved in the racket as the gold was left inside the aircraft. So, technically it was to be found by someone else from the ground staff baggage crew. We are investigating these aspects," the Bengalore Mirror quoted DRI sources as saying.
On October 17, two seizures were made by DRI in Chennai and Delhi. In Chennai, DRI sleuths arrested a passenger who had arrived from Abu Dhabi and two ground staff for smuggling gold worth Rs 35 lakh. The passenger had handed over the bag containing the contraband to the ground staff when DRI sleuths arrested them. The duo was under surveillance.
On the same day, DRI seized 20.64 kg gold and Indian currency notes worth Rs 6.44 crore from a shop in old Delhi.
Earlier, in September, DRI claimed to have busted a major gold smuggling racket that was involved in smuggling around 7,000 kg of gold worth more than Rs 2,000 crore over the last two-and-half years.
The racket was busted after DRI authorities seized 10 kg gold at the domestic cargo terminal of Delhi airport on the intervening night of September 1 and 2, 2016.
"The seized gold bars of 24 carat purity were admittedly smuggled into India through the Indo-Myanmar land borders and were brought to Delhi from Guwahati by a domestic flight. Market value of the total seized goods is around Rs. 3.1 crore," the government had said in an official statement on September 19.
Indo-Myanmar border areas in the states of Manipur (Moreh) and Mizoram (Zokhawthar) have become new hotbeds of gold smuggling, since it is difficult to patrol due to its porous nature, the government added.