Malayalam actress Gilu Joseph recently took the internet by storm with her bold cover for a Kerala magazine where she was seen posing as a mother breastfeeding her baby. While it was aimed to destigmatize the taboo around free and open breastfeeding, Joseph, apart from appreciation, has also been receiving a lot of negative reactions from social media users.
The actress, who has been reading all the hate comments being showered at her on social media platforms, has responded to the trolls who slut-shamed her and called it as a cheap publicity stunt.
"I have not earned a single penny out of it and I have been mostly receiving abuses from people. Till yesterday, they were referring to me as a poet and now they are calling me a slut, prostitute. How is this publicity at all?" Gilu Joseph told The Indian Express.
Joseph was also criticised for applying sindoor on her forehead as she is a Christian.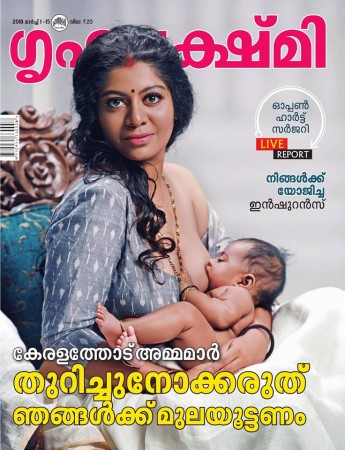 Responding to the controversy, the actress told The Indian Express, "Why are we fearing it so much? ...Moreover, I like wearing a bindi and sindoor. Tomorrow, if I were to get married, despite belonging to a Christian religious household, I will probably wear sindoor again, because I would choose to do so"
She added, "More than my personal interests, the cover is a result of Grihalakshmi's campaign, which was aimed at mothers and wives who are proudly feeding their babies right now, without worrying about anything else."
Addressing the stigma around open breastfeeding, Joseph further stated that the society is unable to break through the taboo. "Because we get so easily ashamed of our bodies, rape victims are continued to be shamed more than the perpetrators themselves. People would probably have no problems seeing graphic images of people getting killed in newspapers and television, but cannot bear to see a woman bond with her child by feeding it," the 27-year-old actress told The Indian Express.
Meanwhile, a case has been filed against the actress and the Grihalakshmi magazine in the CJM court in Kollam in Kerala.