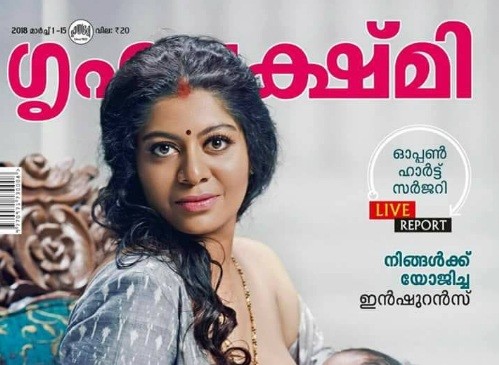 In a first, Malayalam actress, poet, writer and air hostess Gilu Joseph posed for the fortnightly magazine Grihalakshmi breastfeeding a baby for the cover page. However, the 27-year-old actress received a mixed response on social media for her bold photoshoot.
The magazine with their cover photo and title "Mothers tell Kerala, "please don't stare, we need to breastfeed" wanted to send to message to everyone in Kerala.
Joseph believes that there is nothing wrong with the photoshoot as breastfeeding is one of the most beautiful things. "It is a problem to interpret this sexually. Isn't it a beautiful thing, friends? Why do you think it is wrong? Which god will be angry if you feed your child," she told IE Malayalam.
"I am extremely proud of my body and only I exercise rights over it. I only do things that I think is right for me, which is why I had no qualms about taking up this project," she added.
But who is Gilu Joseph? Here are a few things to know about the actress
The 27-year-old, who posed with a baby, is unmarried, Deccan Chronicle reported. She is a Dubai-based Malayali model and works as an air hostess with Fly Dubai airlines. She moved to Dubai when she was 18 to work with the airlines. Joseph, who hails from Kumily in Kerala's Idukki district, has two sisters.
Joseph has also acted in Malayalam movies, including Jacobinte Swargarajyam, C/O Saira Banu, Thrissivaperoor Kliptham, Aby, Rabbit hole, Adam Joan and Ottamuri Velicham.
She was also awarded Palm Pusthakapura Akshara Thoolika award for her poetry.