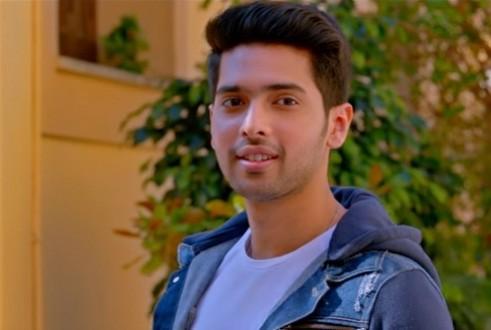 Armaan Malik has come up with his latest song Ghar Se Nikalte Hi, which according to him is not a recreation of a popular classic song, but a rebirth. Armaan has not only sung the track but has also featured in the video as the quintessential lover-boy.
The new song has been composed by his brother Amaal Malik, and it has garnered a positive response from the audience. In an exclusive interview with International Business Times (India), Armaan spoke at length explaining how the song is not just like any other recreation. He also spoke about the current trend of recreated songs and gave some valuable advice to aspiring singers.
Here are the excerpts from the interview:
International Business Times: How did the idea of recreating Ghar Se Nikalte Hi come to your mind?
Armaan: Actually I didn't hear the song ever till Bhushan ji (Kumar) introduced the song to me. He told me this song was a rage at that point in time and it had the quintessential next-door boy or an innocent lover in the video. So he wanted me to feature in the video while I sing as well. Honestly, even I wanted that because generally, people know the singer but they don't know how the singer looks. They have always been hiding behind the mic, and so I wanted to become the face of my own voice. I loved it when I heard the song. I wouldn't call it a recreation but a rebirth because apart from the initial line, everything else in the song is new and different. So even though the essence of the song is same, it's still a fresh song. But definitely, it's a heartfelt tribute to the original creator of the song.
IBT: The original song was sung by Udit Narayan. Did you receive any feedback from him on this new song?
Armaan: The song has just been released, and maybe he will listen to it soon. If he gives me a feedback, I will definitely let you know.
IBT: Of late, a lot of classic Bollywood songs are being recreated. Many started saying that Bollywood is short of creativity now. What are your views on this?
Armaan: I don't think it's a lack of originality. Earlier also recreations used to happen, but only in the non-film space. There were songs like "Woh Chali Woh Chali" in the 90s album songs. While this trend was not popular in films back then, of late almost all the films have a recreated song. I have also done my fair share of recreations but those have been well received because I think they were well crafted. Ultimately it's a whole trend that has come up. But like Amaal (Malik) says, he would do a recreation only if he thinks he can do justice to the track. So, that's an important call to be taken. It's a risky space to recreate such songs because it's not easy to live up to the original. And the public is also not wrong in thinking about it that way as out of 10 originals, eight are recreations, and hence, they will question where the original music has gone? But I feel in some time, a lot of original music will come up because public demand will bring a closure to the phase of recreations. Talking about my latest song, people might think it's another recreation but the treatment is very different. The hook line is same but the song in its entirety is a fresh song.
IBT: You have become a popular singer so early in your career. Any suggestion to other aspiring singers?
Armaan: There is no particular recipe that can be put together to become big. Like I always believed, 80 percent is your hard work and 20 percent is your luck. There are people who get more success than others, but there can't be any definition for that. Also, many musicians and youngsters who want to make it big don't get the support from their parents. Many parents believe it's not a viable career. Such factors can limit you at times. So, my advice would be if you really want to make a career in music, just open up an account on YouTube or social media, and put your audio out there for the world to listen. It can even be a home video with the mobile camera. Today there is no bigger medium than social media. That itself will become an audition tape to whoever is listening to you. You don't need to go to someone and make them listen to it. The best example is Justin Bieber, who was a YouTuber. He got spotted on YouTube when he was singing with a guitar and his mom was shooting the video. Although parents' support is very important, social media can really help you in the endeavor. But that doesn't neglect the fact that you have to learn music. I have done almost 10-11 years of Indian classical training and I have done western training also. So, I have invested time in learning the craft. You need to be armed with your talent.
IBT: Who is your favorite singer among the current lot?
Armaan: Among the current lot, Arijit Singh is my favorite. There is so much to learn from him. But my all-time favorite is Sonu Nigam. He has been my virtual guru. Even though he never taught me, I have learned so much from him.