The news of Siddharth Sagar going 'missing' came as a shock to everyone, after his friend and former celebrity manager Somi Saxena uploaded a post regarding Sagar's absence on Facebook. The post said that the comedian had gone missing for the past 4 months and was last seen November 18, 2017. However, Saxena deleted the post hours after it went viral on social media.
Later, just hours after the missing post, Siddharth decided to clear the air and posted a video on his Instagram handle and said he has been going through a tough phase and suffered mental harassment at the hands of his family. Although he didn't disclose his present location, he assured fans and followers that he will speak to media in 2-3 days.
But why did Siddharth's friend Somi Saxena delete the missing post from her Facebook profile?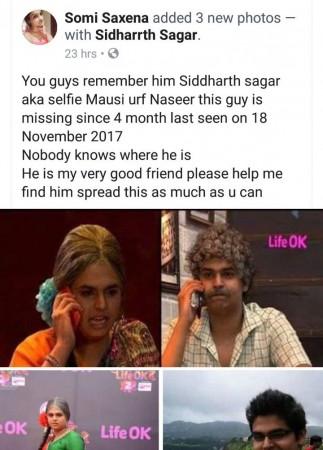 When International Business Times India contacted Somi, she revealed, "His (Siddharth) mother was pressurizing me. They asked me to delete the post as it got a lot of hype. I just wanted to know if he was fine and was concerned about his well-being. She said she will file a complaint against me and book me for extortion as she works in an NGO and has strong contacts. So I got scared and didn't want all this."
After her threat, Somi said that she received a phone call from a lady sub-inspector named Apte from Navi Mumbai's NRI Police Station. The officer asked her to take down the missing post on Facebook. She also allegedly threatened her by saying that she caused harassment to Siddharth's mother.
Later, Siddharth's mother had called Somi from another phone number and tried to fool her with some male friend faking as Siddharth on the other side.
"I could clearly make out it's not him (Siddharth)," Somi said and added, "After a few hours, Siddharth called me and said he was fine and thankful about the post and I can take it off. He said he will call me in 2-3 days. I am happy about the video he posted. Everybody was against me. They didn't believe me."
When Somi and her sister Tanu (common friend of Siddharth) tried to approach the police to challenge the allegations made by Siddharth's mother against her, they treated them badly and even verbally abused them.
Explaining why she had to upload a post like this for Siddharth, Somi said, "We (Somi, Tanu, and Siddharth) used to hangout a lot and suddenly he was unavailable. We had to take some action. Nobody cared enough to even ask. We thought no matter what happens we will find him. That's when I decided to post and now everyone is concerned. We didn't want to disclose his personal life but we had no option left. Tanu tried to contact him and also tried to convince his mother to make us meet him but she denied. She said who are we to ask about him and warned us to stay out of the matter.'"
When we asked whether Siddharth had ever talked about what he was going through in his personal life, Somi revealed that the comedian was kidnapped by his mother earlier too.
"He shared that his mother and her boyfriend used to beat him. They used to tie him to tyre and hit him. Torture him. He was under depression and used to take pills. He somehow escaped from there and shifted to a hotel apartment. He couldn't focus on work," Somi revealed.