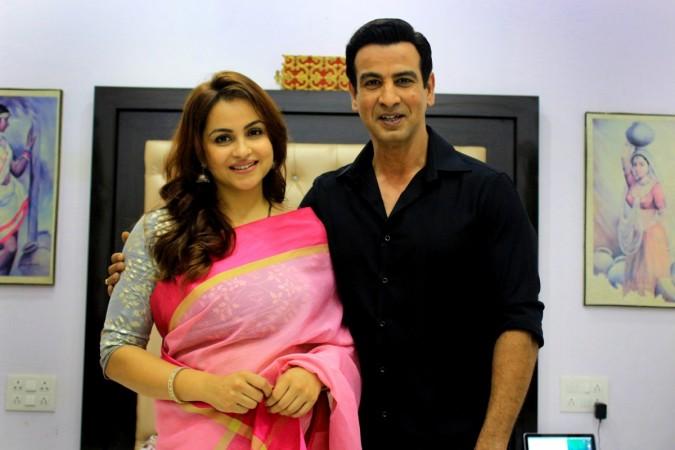 Ekta Kapoor's ALTBalaji App is set to roll out a new web series called Kehne Ko Humsafar Hain from March 16.
The show has an ensemble cast of popular actors Mona Singh, Ronit Roy and Gurdeep Kohli. Interestingly, all three actors are making their digital debut with the show and are reuniting with TV czarina Ekta Kapoor after years.
Kehne Ko Humsafar Hain promises to be everything viewers want — a complex, heartwarming story with multi-dimensional characters. Directed by Kapil Sharma of I, Me Aur Main fame, Kehne Ko Humsafar Hain also has Pooja Banerjee, Palak Jain, Manraj Singh and Suchitra Pillai in pivotal roles.
It narrates the urban tale of a middle-aged married man Rohit (played by Ronit) who falls in love outside his marriage.
In an exclusive interview with International Business Times, India, Ronit shared his experience of working with Ekta, Mona, his upcoming film Thugs Of Hindostan and more.
Here are excerpts from the interview:
IBTimes: What made you come on board the project? Tell us about your role
Ronit: Whenever I speak with Ekta about some new project, she always says the current one will be bigger than the previous one. It is great when the maker herself is trying to make you bigger. Trying to tell a story differently, trying to create a character that will be bigger than the last one she created. So, when the maker is so passionate, it drives you. It has always been lovely to work with her. I have always said that whenever she calls, the question of saying "no" doesn't even arise in my mind.
IBT: Tell us about your role
Ronit: So, my role is of this mid-40s married man with two children who has an extramarital affair. But the next question that you will ask is "so what is so special about it?"
IBT: ...Exactly. So what new does the story have to offer to its viewers?
Ronit: Let me tell you, there is nothing new in the world. Putting old things in a fresher perspective is what we look to do. So, the fresher perspective of this show is that, who is the other woman in the show? Is it the woman with whom the man is in love? Or is it the woman with whom the man is in a bad relationship? Which woman should be given preference taking into consideration social norms, laws and regulations? That is the show is all about.
IBT: How was it teaming up with Ekta Kapoor again after many years?
Ronit: Mona and I go back a very long way. I'm extremely fond of her and I choose to believe that she is fond of me too.
As for Ekta, like I said, whenever she approaches me, there is no thought of saying "no" in my mind. Whenever she has something new that can suit me, she comes to me. So, I'm thankful for that.
IBT: You are making your web series debut with Kehne Ko Humsafar Hain. How is working on a web series different from that of a TV show?
Ronit: TV shows are long-running shows. But this (a web series) is like a film. You shoot for 40 or 50 or 60 days. The preparation time is as much as a film and you also have to stretch it up to eight episodes. It is difficult to keep it exciting and keep the performances up to the level. So, if you are paid well, if your role is good, it's all good.
IBT: You recently tweeted that you are a part of Thugs Of Hindostan. How did you bag the role?
Ronit: I don't know how I bagged the role. Yash Raj just called me and said, 'Will you be interested in the film?' I said, 'Yes, of course.' I think the tweet says it all. Being in a film made by Yash Raj is special. Being directed by Vijay Krishna Acharya is also special. Amitji (Amitabh Bachchan) is very loving and adorable.
IBT: Tell us more about your role and how it was working with Aamir Khan, Amitabh Bachchan and YRF.
Ronit: That's the point here. You will have to wait for the film as I'm not allowed to talk about it.