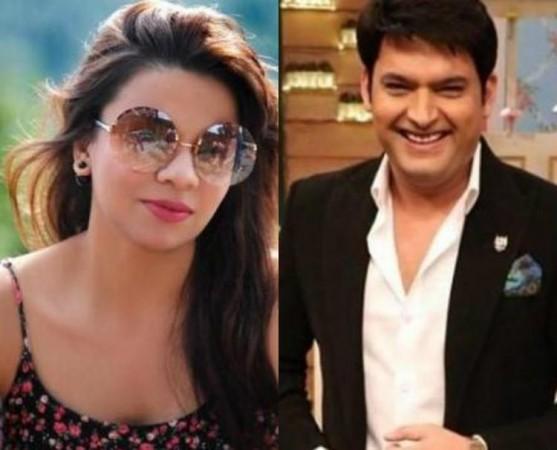 Kapil Sharma who has been on an abusive rant on Twitter since April 6 has now filed a police complaint against an entertainment portal and his ex-manager Preeti Simoes.
In a three-page long complaint, Kapil has claimed that Preeti and her sister Neeti Simoes tried to extort Rs 25 lakh from him, and has alleged that Vicky Lalwani (editor of Spotboye.com) started a false and malicious propaganda to defame him on digital media after he refused to pay him the amount.
International Business Times, India tried to get in touch with Kapil Sharma and his team repeatedly. Even after dropping text messages and numerous calls, nobody reverted from his side.
Later we spoke to Kapil Sharma's ex-manager and once upon a time close friend Preeti Simoes to talk about her reaction on this issue. Neeti picked up the call and said: "Look at the guy, what is he tweeting!? He just needs help. Yesterday also, we were at our shoot, reading all that and the entire team is feeling bad for him. We are very worried about him and just hope he becomes okay soon."
Did you guys plan to meet and talk it out?
"Talk out what? There is nothing to talk. He is living his life. We have had no association with him personally or professionally since a year and all this is coming up, we really don't know from where. Because we have known him for so many years, we believe that he needs medical help which needs to be taken care of immediately. I am feeling sorry for him. I hope he becomes ok."
Neeti then handed over the phone to her sister Preeti Simoes who sounded disturbed and worried. She said: "I was with Kapil for 8 years of my life. I think it was the most beautiful and glorious years of my life. Together we grew and achieved a lot and then some decisions were taken last year and everyone went their separate ways.
We were all connected in different aspects of our life, so when the relationship ended, it ended a lot of other things as well. Whether it was work or our personal equation or common friends, everything kind of got divided when we parted ways.
Through the one year that I haven't been with Kapil, and clearly, he has been with other people, his mental health has deteriorated very badly. I was wanting to speak about Kapil Sharma a couple of days back but Neeti stopped me. I was in touch with him on and off. He has reached out to Neeti, he has reached out to me many times on his normal days, wherein he has clearly said that he is going through a lot of mental pressure. He has told me that he is suffering from depression because of the decisions he has taken in his life and that he has not been able to deal with it.
Those messages got to a point where I thought they were suicidal. I got really scared for him. I even reached out to many of his friends whom I consider sensible, who are not drinking and can put can talk him out of the messy situation. They have tried to speak to him. I do understand that he comes from a background where probable mental health is not something that they understand. They don't understand that mental health is equally important and dangerous. His mother, his sister are pressurizing him to get married, choosing certain people in his life and he did that initially. I have lot of messages from him where he literally cried out for help and then he would disappear.
He would message me and we would all try to get back together, regroup. We even told him that we would get his show and life back together on the right track. But then he would disappear for 6 days. Then he would message saying he is sorry, he can't do it. He has gone through a complete mental breakdown and that's showing in his tweets and the way he is talking to people on the phone, the recording that I heard yesterday. Suddenly this weird, so-called notice that he is sending to the police is making no sense — he is talking about what happened in 2016 and people not doing his work. I am wondering what work? Our show was on the top in 2016, we were traveling the world with him. However, in 2017 March was when things started crumbling when he messed up all as he was under pressure from his family.
He tweeted about that girl, he fought with Sunil on the plane and the leaked information that he is accusing me of, I really want to ask him, which leaked information? In that conversation that he had yesterday with that journalist, he said he called him a 'Zero Actor'. Is that leakage of information? He is talking to a journalist and talking about a woman like that, it is really sad. He is hallucinating. He is talking about Dawood Ibrahim and his wife. Aren't people realizing that he is not normal? And he has also talked about knowing Maharajas who kill sher. Which Maharaja? What is he saying? Why isn't his family and friends understanding? His friend who was abusing that journalist on the phone, his name is some Gurjot, I have been with Kapil for eight years, I have never seen or heard about this guy, and I was practically handling everything for him.
Will you hit back at him?
No, I am feeling sorry. I am only urging his family as he is unapproachable to anyone, anymore. They block calls, they do everything in their capacity to ensure he doesn't talk to any one of us. So I request to his family – we are not going to malign him, we are not going to indulge in anything. What do I say to this notice? This is a serious accusation. What do I reply to this notice?
When you were working with him, did he ever cancel shoots?
No. Never. We have had delays in shoots. No doubt about it. When I was with him, he tweeted to Narendra Modi, and we handled the situation, because even that time, he was a little intoxicated. It never went out of hand, the way it is going now.
What about his current girlfriend? What role is she playing? Isn't she helping him at all?
No she is not and I really want his family to understand. Kapil Sharma was at his peak when he was with us. Career-wise and personal life, I don't mean affair, I mean personally happy. Because, as a performer, if you are personally happy, you can perform really well. I don't even understand what has happened to him in the last one year. My question to them is, what have you all done to him? We left him as a sane, intelligent man who was on the threshold of making the biggest film that he wanted to do. His dream project. That was where we left. There was no way any negative news would come out if there was nothing negative happening in his life.
If he is canceling shoots and ten journalists are writing about it, it is because he is canceling shoots. Shoot cancelation is not like canceling a meeting at home. There are two hundred people on the set. Then how can you blame one particular person that he leaked the news? Your own Sony channel sends apology messages to all the journalists saying sorry, due to technical errors, we can't shoot, that's what it is right. What other personal information are you talking about that has come out.
What other personal information are you talking about that has come out. How are you suddenly talking about Salman Khan? How are you talking to journalists about hanging them? If Sunil Grover is telling that he didn't call him on his show, why are you attacking him on Twitter? Did you call him for your show? You didn't. You didn't call any one of us. We all reached out to him. When his film didn't do well, we all reached out to him saying we will come down, let's work together.
Do you think that he is trying to win you back by doing all this?
No. I think he is suicidal and I am scared for him. I don't know about coming back or not coming back. I think that he needs his family to take care of him and put him in the hands of experts who handle such cases because clearly is not in his right senses and after hearing his conversation with a senior journalist, also involving his friend it shows he is around the people that don't know how to take care of him.
Because, I have dealt with the worst situation of my life when he tweeted to Modi and how we handled it is a case study of how his friends should be handling him right now. He is clearly not happy in his life. He is mentally completely unstable because he is hallucinating and they should actually take him to a doctor rather than making it a tamasha on Twitter. Is this a sane person's conversation? Whatever he was doing on twitter yesterday? If the legal notice, if it comes to me, I am not going to react to it. He has just put a photo on Twitter. I really want to tell his mother that her son is suffering. At least, he should get the help he requires now, or else they will lose him.
But he was in a rehab earlier right?
That wasn't a rehab. It was some ayurvedic center in Bangalore. They just gave him massages. How will it help? Who did he go with? His friends and that girl. The people that he wants to run away from, if he goes with them only, how will it help? If you take your problems with you, how will it help you?
Preeti, creative producer of his previous shows like Comedy Nights with Kapil and The Kapil Sharma Show told Hindustan Times: "The Kapil I knew was a very intelligent, bright, young and dynamic man. It's most certainly his girlfriend Ginni Chatrath or maybe some friend is provoking him to do all this. And if this is what Ginni and her one year with Kapil has brought him to, I feel sorry or both of them — Kapil for the choices he has made and Ginni because she didn't know how to handle Kapil Sharma."