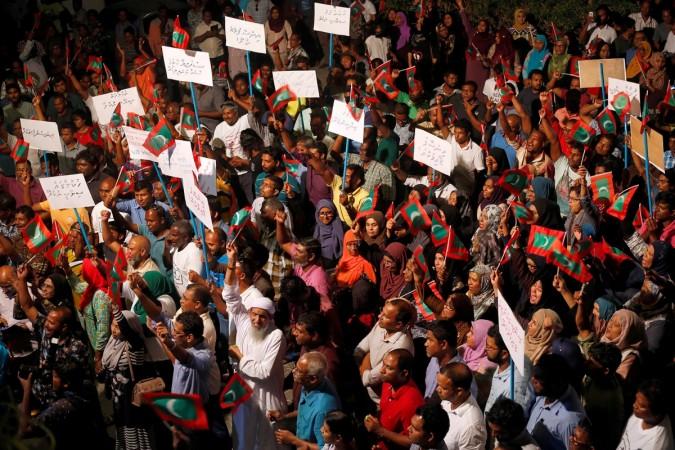 The Ministry of External Affairs (MEA) recently issued a statement expressing the government's concern over the political situation in the Maldives.
In the statement, the government said that they have been urging the government of the Maldives, an archipelago in the Indian Ocean "to allow all institutions, including the Supreme Court and the Parliament, to function in a free and independent manner, and to permit genuine political dialogue between all political parties".
In February, the government imposed an emergency in the country. On Wednesday (June 13), the government sentenced former President Maumon Abdul Gayoom and Supreme Court Chief Justice Abdulla Saeed to long prison terms.
The statement went on to reiterate that both Gayoom and Saeed had been sentenced without a fair trial. It also said that it was echoing calls of the international community. The statement also said India believes that a democratic, stable and prosperous Maldives is in the interests of all its neighbours and friends in the Indian Ocean.
"This casts doubt on the commitment of the government of the Maldives to uphold the rule of law and will also call into question the credibility of the entire process of presidential elections in September this year," it said.
"It reiterates its advice to the government of the Maldives to restore the credibility of the electoral and political process by immediately releasing political prisoners including former President Gayoom and Chief Justice Abdulla Saeed and creating the necessary conditions for the participation of all political forces in the presidential elections."
The 80-year-old Gayoom, who ruled the country from 1978 to 2008 was sentenced on Wednesday after being accused of plotting to overthrow the government of Yameen Abdul Gayoom, who is his half-brother. Gayoom received a sentence of 19 months for failing to cooperate with the police investigation.
Chief Justice Abdulla Saeed who was also arrested along with Gayoom received the same sentence for the same offence. Saeed was earlier jailed for allegedly influencing lower court decisions.
During Yameen Gayoom's tenure, several high-profile government servants had been jailed under similar cases. Mohammed Nasheed, who was the country's first freely elected president in 2008 was earlier sentenced to 13 years. The trial was widely criticised for violating due process, and he escaped to live in exile in the UK.
A five-member Supreme Court bench ordered the release of several political prisoners, but Yameen declared a state of emergency on February 5, which was lifted in March. However, the court overturned its decision to release the prisoners.
The Indian government in February had reportedly ordered its troops to be on standby if a military intervention was required, but so far that has not been the case.
[With inputs from IANS]