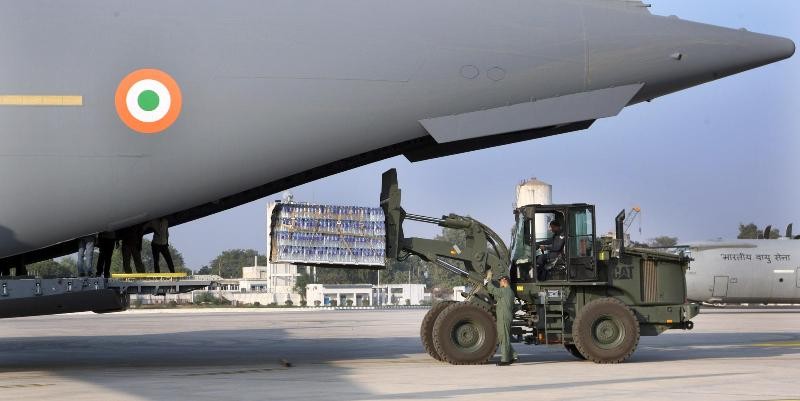 A political crisis is blowing through Maldives, and it remains to be seen if India will romp home with any diplomatic or geopolitical spoils when it ends. It's hugely important for India to keep the Indian Ocean archipelago, which is just 700 km across the Lakshadweep islands, within its sphere of influence. However, in the last six years or so India has seen Maldives slowly and decisively slipping out of its geopolitical orbit.
A more menacing fact is that India's loss is China's gain. Surprisingly China's wholesale appropriation of the archipelago continued to go ahead as planned even after Prime Minister Narendra Modi took power in India. It's interesting to analyse the lean and slant of global reportage after Chinese warships docked at Male in August 2017. One was this: "Maldivian president, Abdulla Yameen Abdul Gayoom, has used Chinese money and Saudi Arabia-backed Islamicism to throttle his country's democratic polity." (Global Security.org.)
It's hardly the fact that Modi's security establishment and diplomatic machine didn't notice the true ramifications of the developments in Maldives. However, There haven't been serious efforts from India's side to leave an impact on Maldives. In other words, India just couldn't do much to change what appears to be an irreversible course of the pro-China gravitation of Maldives.
From staunch ally to lost cause
India was Maldives' strongest ally for decades after its independence. New Delhi helped its autocratic President Moumoon Abdul Gayoom stay in power for three decades and helped develop its economy.
China, which was nowhere in the picture all those decades, gatecrashed into the party in recent years. And Beijing isn't in the strategically placed archipelago consisting of more than 1,200 islands to just harvest its abundant fish stock. After having built the 'String of pearls' port complexes around India, China could soon set up a naval presence in Maldives.
That's an anti-climax India hadn't expected. How did India slip up on Maldives? The drift started when India-friendly President Mohamed Nasheed was ousted in 2012. A more harsh jolt followed later that year when Maldives unilaterally cancelled a contract signed by India's GMR Infrastructure to construct the Male airport. The contract was then awarded to a Chinese company. Even as China initiated free trade talks with Maldives it also started pumping money into Maldives's tourism, infrastructure, fishing and travel sectors.
President Xi Jinping visited the country in 2014. The announcement of the China-Maldives maritime silk road partnership followed soon. In 2015 Maldives amended the constitution to allow foreigners to own land in the country on freehold basis on condition that the investment should be to the tune of at least $1 billion and 70 percent of the project should be on reclaimed land. It's no surprise that these two clauses looked like they were tailored for China. By later that year China was openly on the defensive, explaining away that it was NOT building a military base in Maldives.
18 naval bases in Indian Ocean
China's plans to build naval bases in countries along the Indian Ocean Region (ICR) are not secrets anymore. According to a Sunday Guardian report, China plans to build 18 naval bases in the years to come even as it asserts 'Indian Ocean is not just India's ocean'.
India, on the other hand, was probably sleeping when China started marking territory in the Indian Ocean and then suddenly China's momentum picked up. In December 2017 Maldives became only the second country after Pakistan to sign a Free Trade Agreement (FTA) with China. China has also roped Maldives into its Belt and Road Initiative (BRI) and has undertaken massive infra projects including the construction of bridges and apartment complexes.
Beijing also painstakingly worked on relationship with Maldives. President Xi Jinping visited the country in 2014. China's gift of 1,000 tonnes of fresh water during a severe drinking water shortage in 2014 was an example. During President Yameen Abdul Gayoom's visit to Beijing in 2017 Xinping hailed Male as one of its closest allies.
For perspective, Prime Minister Modi, in his fifth year in power, is yet to visit the country whose immediate neighbour is India. Strange for a prime minister known for maniacal globe-trotting and even impromptu landings in places like Lahore. Yet it's not so in black and white, it's not just India's deliberate fault.
Curious spectacle
Maldivian diplomacy has been a curious spectacle in the last couple of years. When President Yameen arrested Nasheed in 2015 and his police manhandled the ex-president. India protested, and Modi cancelled a scheduled state visit in order to put pressure on Maldives to release Nasheed. Yet nothing happened. Neither regular diplomacy nor strategic pressures worked in Maldives!
Now again, it's a turning point in Maldives. It will be intriguing to watch which way the diplomatic dice will turn. The latest crisis in Maldives emanated from an apex court order that green-signalled the impeachment of Yameen and the release of political prisoners including Nasheed. The court also overturned the disqualification of 12 MPs, whose return to the Parliament will mean the bloc supporting him will be in the minority.
Reports over the weekend said Yameen has offered to hold elections earlier than scheduled but the government has withstood the pressure for the release of Nasheed. The military and police leadership have defied the court order for the impeachment of Yameen.
The return of Nasheed to the helm in Maldives will be a diplomatic victory for India. Nasheed, who had longstanding grouse against the increasing China liaison, had accused Beijing of 'land grabbing'. He was also a staunch critic of the FTA with China, which, according to him, would push the country to a debt trap that would compromise the country's sovereignty.
Maldives would do well to realise the way China's generous port funding pushed Sri Lanka and Pakistan into an irremediable debt trap. While Sri Lanka has practically ceded control of the Hambantota port with a 100-year lease, Pakistan is facing the same situation with Gwadar port.