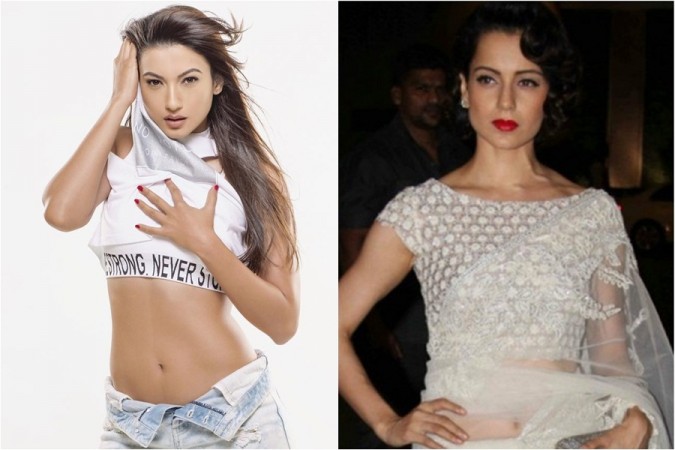 Bigg Boss 7 winner Gauahar Khan has slammed Kangana Ranaut for her recent statement made against Hrithik Roshan and being disrespectful towards the actor's ex-wife Sussanne Khan.
A couple of days ago, Kangana, while referring to Hrithik, said that the actor is among those men who keep their wives as trophies and young girls as mistresses adding that people should not work with him.
Her remark had received a strong reaction on social media. A lot of people slammed Kangana for dragging Hrithik in the ongoing MeToo movement, and opined that she did it just to create publicity for her upcoming film Manikarnika: The Queen of Jhansi.
Kangana had also alleged that Queen director Vikas Bahl had tried to misbehave with her on the sets. However, in a lengthy tweet, Bahl's ex-wife Richa Dubey accused Ranaut of misusing the #MeToo movement. Her post questioned why she was seen dancing with Bahl during a wedding and exchanging friendly texts with him if he had made her uncomfortable.
Calling out Kangana Ranaut for her double standards and attacking a woman and her marital status, Gauahar Khan sent out some strong hard-hitting words saying that women don't need a self-proclaimed voice for women's rights and feminism.
"I'm calling you out on your double standards on being a self proclaimed voice for women's rights and feminism #KanganaRanaut. Your voice is shrill and your views convenient. The loop holes in your claim are very clear and you attacking a woman, marital status shows how much you feel for womanhood. And just to point out, the only criteria to marry a man is never because he is god, neither should that be a reason to divorce him, should he not be one. The word ANOTHER in ur ex wife claim is evident enough of what ur real agenda is! So you are not the voice strong women need !Strong women re build each other n respect different views, they don't bracket other women to suit themselves!" Gauahar posted her statement on Twitter saying "this is for the Real women , not for the Feminist Of Convenience.
This is for the Real women , not for the #feministOfConvenience #KanganaRanaut #word pic.twitter.com/wy3nfm4y1O

— Gauahar Khan (@GAUAHAR_KHAN) October 13, 2018
Former Bigg Boss 2 contestant Payal Rohatgi also slammed Kangana for her remarks and extended her support to Hrithik Roshan.
For the uninitiated, the ugly spat between Kangana and Hrithik in the past had grabbed the attention of the entire nation when the two locked horns with each other, followed by a legal battle and media trial.