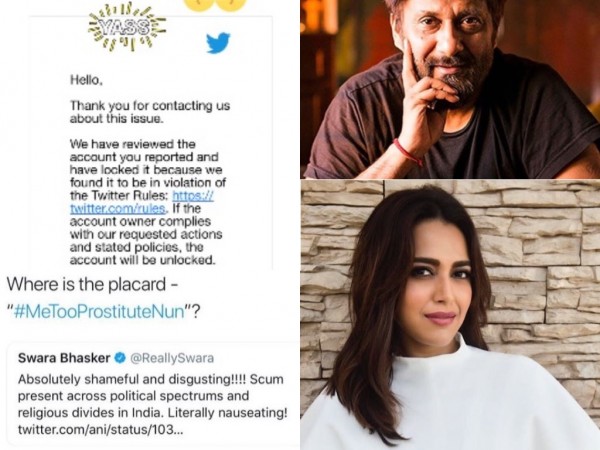 Bollywood actress Swara Bhasker and filmmaker Vivek Agnihotri's dislike for each other is known to all thanks to their Twitter war earlier this year. But this time, the director who is a known supporter of the ruling Bharatiya Janata Party (BJP) went a bit too far in expressing his opposing views to that of the Veere Di Wedding actress.
Swara Bhasker called out Vivek Agnihotri for his disgusting remark in reply to her tweet on the Kerala nun rape case. She reported his tweet to Twitter India, and the microblogging company took action and made the director delete his tweet. Actress Gauhar Khan has also lashed out at Vivek Agnihotri now.
Swara Bhasker is known to speak out her mind on a lot of issues and against people who she thinks are doing wrong to society. She slammed PC George, an Independent MLA from Kerala, for his remarks against the nun who is a rape survivor and is demanding the arrest of the Jalandhar Bishop Franco Mulackal who allegedly raped her.
ANI reported the MLA as saying, "No one has doubt that the nun is a prostitute. 12 times she enjoyed it and the 13th time it is rape? Why didn't she complain the first time?" Swara Bhasker retweeted ANI, adding her remarks: "Absolutely shameful and disgusting!!!! Scum present across political spectrums and religious divides in India. Literally nauseating!"
To this, Vivek Agnihtori tweeted to Swara Bhasker, "Where is the placard "#MeTooProstituteNun"? Swara Bhasker immediately reported the insensitive tweet to Twitter India, who made a note of it and made the Buddha in a Traffic Jam director delete it.
Take a look at the tweets in question here from both parties.
Absolutely shameful and disgusting!!!! Scum present across political spectrums and religious divides in India. Literally nauseating! https://t.co/zb8NkUaW5x

— Swara Bhasker (@ReallySwara) September 9, 2018
Vivek Agnihotri's deleted tweet to Swara Bhasker on the Kerala nun rape case.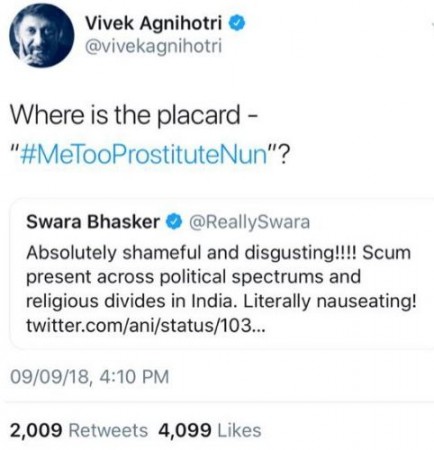 "Thank you @TwitterIndia @TwitterSupport 4 taking cognisance of @vivekagnihotri's abusive tweet. And making him delete it! No tolerance 4 cyber bullying & abuse of women on public platforms! (Or private - but one thing at a time) Thank u #SayNoToBullying", Swara Bhasker tweeted.
Actress Gauhar Khan came out in support of Swara Bhasker. Replying to a tweet by Shehla Rashid, Gauhar said, "There should be a different category of laws n punishments for obnoxious individuals like @vivekagnihotri ! Blatantly demeaning faiths, women, freedom , normalcy !! N justifying everything weird, extreme n hateful !!"
Shehla Rashid, another woman who always lands in controversy on Twitter, had tweeted, "A conscious citizen @ReallySwara expresses solidarity with a rape survivor from Kerala & this person @vivekagnihotri abuses both Swara & the rape survivor, calling them "prostitute nuns"! Doesn't this warrant action? @DelhiPolice @IPSMadhurVerma @misskaul @amritat @twitterindia".
Meanwhile, people on Twitter are in two minds, with most supporting Swara Bhasker this time but some who are still making fun of her, asking for the "placard" mentioned by Vivek Agnihotri.