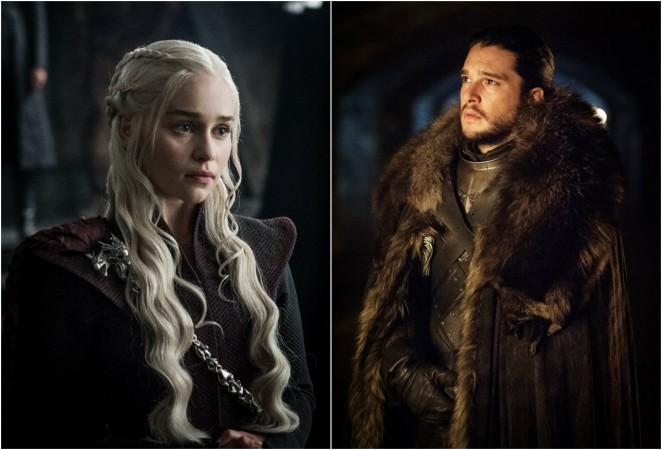 Most of the die-hard Game of Thrones fans felt a little awkward while watching the series finale of Game of Thrones season 7 as there was a sex scene between Jon Snow (Kit Harington) and his on-screen aunt Daneryes Targaryen (Emilia Clarke). And, this came after the revelation of Snow's true parentage. So, it was ought to be a bit awkward.
In an interview with Vanity Fair magazine, Harington recently talked about the famous boat encounter explaining how uncomfortable both of them felt during the scene as they are best friends in real life.
Harington said, "If you've known someone for six years and they're best friends with your girlfriend, and you're best friends with them, there is something unnatural and strange about doing a love scene. We'll end up kissing and then we're just pissing ourselves with laughter because it's so ridiculous."
The 31-year-old Gun Powder actor is now engaged to his former GoT co-star Rose Leslie (who played the character of Ygritte) and is all set to tie the knot. The duo reportedly started sending out wedding invitations as well.
On the other hand, Clarke is also quite a close friend of Leslie and in fact, the three of them are best friends. Hence, it is understandably quite awkward for both Harington and Clarke to film the epic boat sex scene.
What other surprises await Game of Thrones fans?
The series producers are playing it safe and are shooting several endings, so it is really hard to speculate who will survive in the series.
But recently some speculation theories claimed that the Mother of Dragons will die in the final season as she was not spotted in Spain for the filming of a significant scene while other major actors including Lena Headey (Cersei Lannister), Peter Dinklage (Tyrion Lannister) were there for the filming.
Game of Thrones season 8 is expected to return on television sometime in 2019.