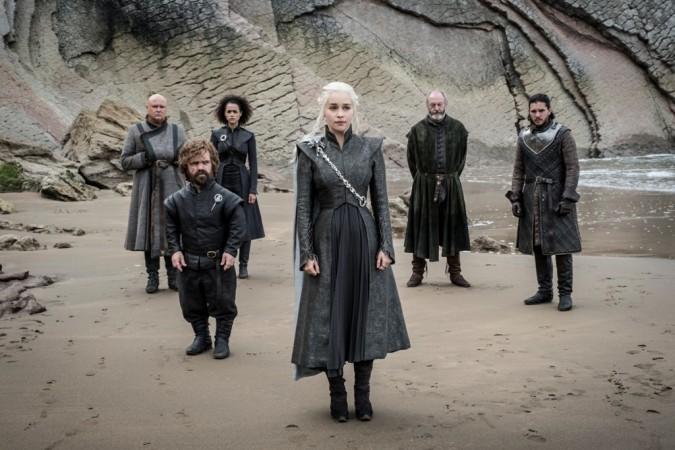 Game of Thrones season 8 will witness many twists as all the major characters fight to sit on the Iron Throne. According to the latest speculations, it is not Daenerys Targaryen (Emilia Clarke).
As per Watchers of the Wall reports, Clarke was nowhere spotted in the Spanish city of Seville while the rest of the major characters already landed in the city to shoot for a couple of scenes from Dragonpit.
If one looks at the history, Dragonpit is a very significant filming location for the Targaryens as they used to tame and keep their dragons there. So, if Clarke is not there with the rest of troop to shoot for the final season, then her character is possibly dead in the series, claim rumours.
As we have seen in the last season, Jon Snow (Kit Harington) and the mother of dragons ended up together, which might result in her pregnancy.
But the way the show is progressing, if Clarke's character is dead, it will definitely be a mind-boggling twist in the series.
According to Los Siete Reinos, GoT series actors including Lena Headey (Cersei Lannister), Peter Dinklage (Tyrion Lannister), and Nikolaj Coster-Waldau (Jaime Lannister) were spotted at the sets in Sevilla. Apart from them, other major characters like Davos Seaworth, Brienne of Tarth, Sam Tarly, Gendry, Robin Arryn, Varys, Jorah Mormont, Yara Greyjoy, Grey Worm, and Jaqen H'ghar were seen there.
While we know that Clarke is currently busy promoting her film Solo: A Star Wars Story, it is possible that she might film her part later in Dragonpit.
The eighth and final season of Game of Thrones has six lengthy episodes. It will premiere on TV sometime in 2019.