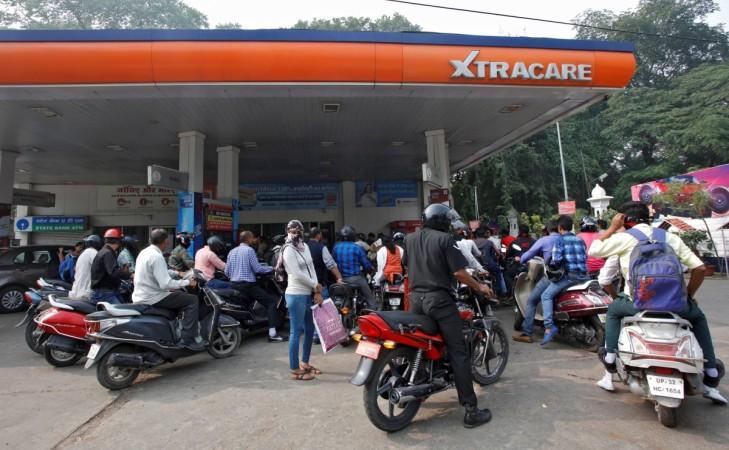 Fuel rates have gone through the roof as petrol and diesel prices saw a marginal increase of 1 paise and 4 paise respectively on Friday.
In the national capital Delhi, petrol price raised to a 55-month high at Rs 74.08 a liter, the highest since 2013. Diesel is retained at a record high of Rs 65.31 a liter, as per Indian Oil Corporation's website.
On April 19, petrol in Delhi was priced at Rs 74.07 per liter and diesel was priced at Rs 65.27 per liter. Price of one-liter petrol on Friday stood at Rs 76.78 in Kolkata, Rs 81.93 in Mumbai, and Rs 76.85 in Chennai.
In Kolkata, one-liter diesel on Friday retailed at Rs 68.01, in Mumbai at Rs 69.54 and in Chennai at Rs 68.90.
Increase in crude prices across the globe pushed domestic fuel prices higher in India. The rupee dropped to its lowest level and hit its 13-month low of 66.05 against the US dollar Friday.
Due to skyrocketing of fuel prices, there is a call for excise duty cut on fuels in the country.
Finance minister Arun Jaitley in Union Budget 2018 reduced basic excise duty on petrol and diesel by Rs 2 per liter but introduced a new Rs 8 per liter levy of Road and Infrastructure Cess on both petrol and diesel prices.
In India, state-owned oil companies - Indian Oil Corporation, Bharat Petroleum Corporation and Hindustan Petroleum Corporation have been following dynamic pricing of auto fuels from June 16 last year. Now petrol and diesel prices are revised on a daily basis.
The fuel prices have been on the rise for the past few days. Also in January, there was a clamor for bringing fuel prices under Goods and Services Tax (GST) regime. At present, petrol and diesel do not come under the ambit of the GST.