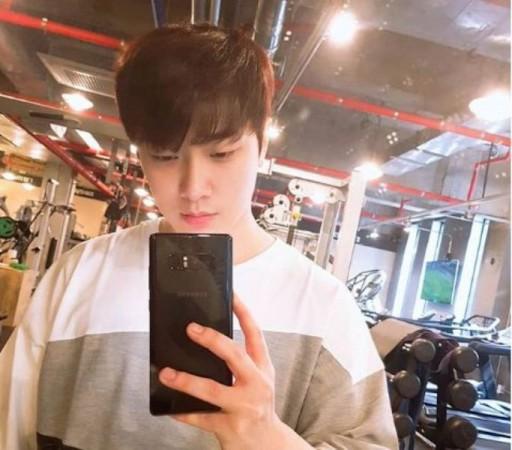 Congratulations are in order for FTISLAND's Choi Min-hwan (Minhwan) and his fiancée Kim Yul-Hee (Yulhee) as they are going to welcome a baby soon. Minhwan officially announced that Yulhee is pregnant and said they will tie the knot soon.
Earlier, there were speculations that Yulhee is pregnant and the couple is planning to get married, but none of their agencies confirmed it. However, now the member of the boy band has confirmed it.
Minhwan in a letter to his fans announced his future plans. In his letter, which was uploaded on FTISLAND's fan cafe, the singer said he wanted his fans to know about the happy news first. He also revealed his marriage date as October 19.
He spoke about talking about new responsibilities as a father and a husband and how excited he is.
Read his full letter, as translated by Soompi, below:
"Hello, everyone! This is Minhwan. It's my first time being on the fan cafe a while, so I'm having a lot of thoughts about old times. I feel like the events of the past few years have passed by like a dream..
"From the public announcement of my relationship at the end of the year to the sudden marriage news at the beginning of this year... I think you must all have been very surprised... I'm writing a letter to you because I wanted to tell you my sincere feelings, rather than using formal language!
"At first, I was honestly very scared as I wondered about how I should tell you. You've supported me until now without change for over 10 years since I debuted at the young age of 16, and I was worried that you might be disappointed by my decision.
"So more time passed, and I've ended up telling you now like this... After a lot of thought, and after my thoughts have settled about my situation. I wanted to tell every small and big thing first to you, who have supported us so much and had such a love for the group called FTSLAND.
"I'm going to be a dad soon!! I'm still very young and I'm very lacking in terms of becoming a father.. but I'm trying really hard so that I can become a good and respectable father!
"I wanted to tell this happiest of news to all of you quickly. The baby's nickname is Jjang! I want our Jjang to quickly be born so I can show them to all of you!! The baby is so, so beautiful even just looking at the sonogram! The wedding ceremony is planned for October 19, after my wife has recuperated enough!
"Until now, I've focused on just working hard while running forwards as FTISLAND's youngest member and drummer, but now I'll try to walk forwards while looking at my surroundings, and checking who is beside me and who is behind me.
"We decided on getting married. And also now that I'm preparing to be a dad soon, at some point I realized that the world seems very different than I used to see it! Every day is just so precious and I'm so grateful.
"Now that I'm becoming someone's husband and a child's father, it's become a new part of my life. Like the past moments have become good memories, I hope that these moments now will also someday become good memories.
"I'll have a happy life!! Please support me a lot!! Everyone, I thank you sincerely!"