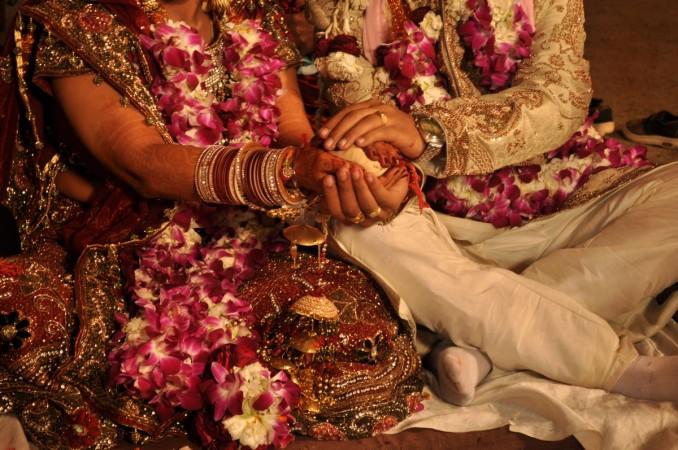 Indian weddings are known to be a lavish affair complete with scrumptious food and extravagant celebrations. But the festivities turned into mourning at a wedding in Uttar Pradesh's Lakhimpur Kheri district when the groom was killed during the celebratory firing at the function Sunday, April 29.
Sunil Verma, 25, was reportedly hit by a bullet shot from a close range by his friend when he arrived at the bride's house. The entire incident was caught on camera and shows Ramchandra firing two shots from his "licensed gun," reported the Times of India.
While the first shot is said to have missed Verma, the second shot hit the groom, who is reportedly seen clutching his chest and collapsing on the ground. As there was loud music at the venue, the groom's relatives at first did not realize that he had been shot.
He was then rushed to the hospital but was declared brought dead. The 25-year-old's father has now filed a complaint against Ramchandra and he has been booked under section 302 (murder) of the Indian Penal Code (IPC). However, he is said to be absconding.
"Prima facie it appears that the groom was killed during the celebratory firing, but police are probing other angles too," ASP Ghanshyam Chaurasi told TOI.
The incident in UP comes despite the fact that celebratory firings are considered illegal. The Delhi Police in November had told the high court that such celebrations are illegal and may result in cancellation of license and also invite legal action.
"There are already adequate legal provisions to regulate any such incidents," Hindustan Times had quoted an affidavit filed by the police on a PIL, filed by Shyam Sunder Kaushal. He had taken the step after his 17-year-old daughter died during such a firing in April 2016.
Meanwhile, in a similar incident in January, a groom was killed during a celebratory firing in Haryana's Kaithal. Vikram Vohra, who was settled in Australia, was set to get married and was dancing during the sangeet function. However, the 36-year-old was hit by the shots fired during the celebrations. While he was rushed to the hospital, he died of the injuries.