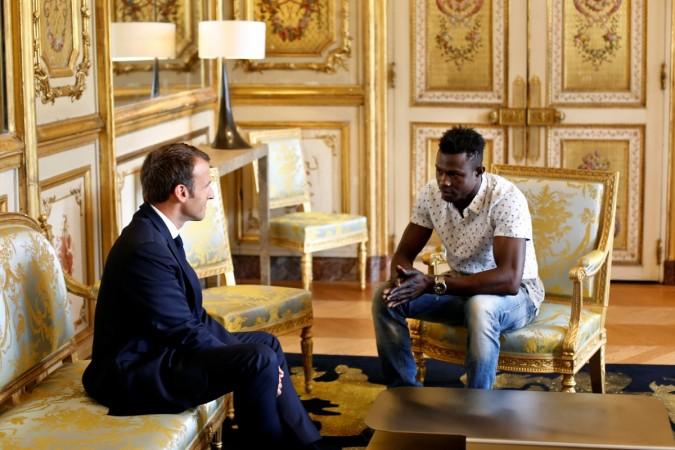 The incredible footage of Mamoudou Gassama, a Malian migrant, saving a child dangling from a balcony has taken social media by storm. The incident that took place on May 26 resulted in Gassama being dubbed 'real-life Spiderman'.
Gassama saved a four-year-old child who was hanging from a balcony on the fourth floor of a building in Paris. He can be seen scaling the building with his bare hands to reach the kid.
President Emmanuel Macron, who lauded him for his bravery, offered Gassama French citizenship. The young 22-year-old was reportedly an illegal immigrant from Mali.
The video which was viewed more than a million times online also led to the 22-year-old receiving a medal for bravery from the President himself. He was also honored by Macron at the presidential palace in Paris following which he was requested to join the French fire services, AFP reported.
While referring to his immigration status, Macron said: "All the (Gassama's) documents will be put in order." Macron had also carried the live footage of Gassama on his official Facebook page.
Gassama had been living in France since September 2017. On the day of the incident, Gassama was quoted as saying by French newspaper Le Parisien:
I saw all these people shouting, and cars sounding their horns. I climbed up like that and, thank God, I saved the child. I felt afraid when I saved the child. [when] we went into the living room, I started to shake, I could hardly stand up, I had to sit down.
The Malian immigrant was also lauded by the Mayor of Paris Anne Hidalgo who took to Twitter to praise Gassama.
Congratulations to Mamoudou Gassama for his act of bravery that saved the life of a child last night. I had the pleasure of talking with him today by phone, to thank him warmly.
She further added: "He explained to me that he had arrived from Mali a few months ago dreaming of building his life here. I told him that his heroic act is an example to all citizens and that the city of Paris will obviously be very keen to support him in his efforts to settle in France."
Watch the footage here:
#MamoudouGassama—the Malian Muslim Spiderman—rescues a toddler w/o hesitation. Mamoudou is an undocumented immigrant—he knew getting caught would mean deportation

Macron is awarding him citizenship

"To save one is to save all humanity."—Quran & Torah❤️pic.twitter.com/aJ9gP93GVA

— Qasim Rashid, Esq. (@MuslimIQ) May 28, 2018