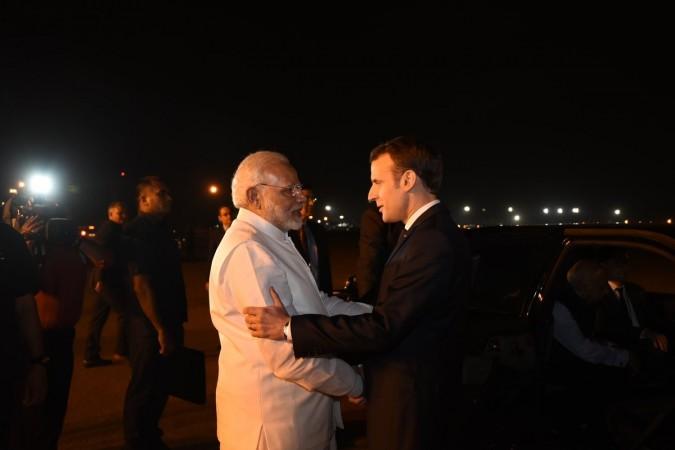 French president Emmanuel Macron landed in New Delhi late Friday and was greeted by Indian prime minister Narendra Modi with his trademark "Modi hug." Macron, who is on a four-day visit to India to discuss a gamut of bilateral relations between the two nations, was welcomed by Modi at the Air Force Station in Palam, New Delhi.
Macron, accompanied by first lady Brigitte Marie-Claude and other senior cabinet members, is in India to attend a series of summits as the date coincides with the 20th anniversary of the Indo-France strategic partnership.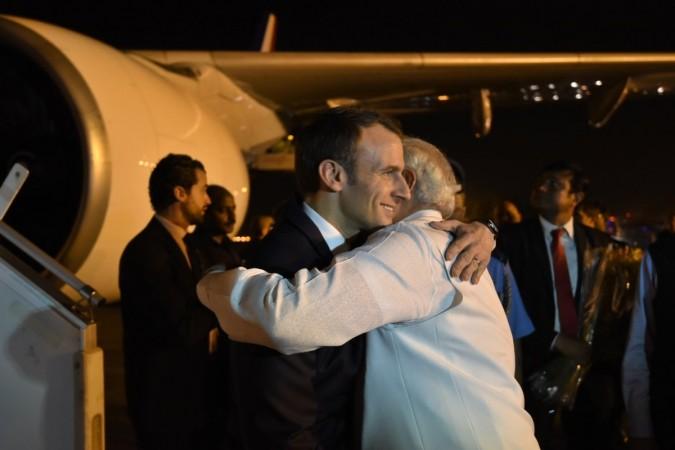 The French president's visit comes just a week after the much-talked-about trip of Canadian prime minister Justin Trudeau to India. Macron will be in India from March 9 to 12 to strengthen the strategic partnership between India and France.
Looking forward to co-chairing the Founding Conference of the International Solar Alliance with President @EmmanuelMacron on 11th March. The ISA is a unique effort that brings the world together to harness solar energy and create a cleaner as well as greener future.

— Narendra Modi (@narendramodi) March 9, 2018
Macron's visit to India will include delegate-level talks on maritime security, counter-terrorism, defense, cooperation on nuclear energy and space among other subjects that will strengthen the ties between India and France. Macron is expected to 'spend a lot of time' with Modi after Agence France-Presse reports suggest that the two 'formed a close relationship' since the French premier assumed office last May.
"France has particularly supported India's perspective on terror in South Asia. We are seeing convergence in new areas, particularly maritime security, counter-terrorism and renewable energy," K Nagraj Naidu, Joint Secretary (Economic Diplomacy), Ministry of External Affairs, was quoted as saying by PTI.
"In the area of space, India and France have a matured engagement and we would like to take it to a new level," he added.
Congress president Rahul Gandhi is also slated to meet Macron during his trip to India, party sources told PTI. However, the Congress leader's rendezvous with the French president may not involve Gandhi discussing the controversial Rafale fighter jet row.
Here's the itinerary of Macron's four-day visit to India:
Friday, March 9, 2018

10:00 pm

Arrive
Venue: Air Force Station Palam

Saturday, March 10, 2018

09:00 am
Ceremonial Reception
Venue: Rashtrapati Bhawan

09:30 am
Wreath Laying (Memorial of Mahatma Gandhi)
Venue: Raj Ghat

10:00 am

Call by Sushma Swaraj, Minister of External Affairs
Venue: Alliance Francaise Delhi, 72-K K Birla Marg Lodhi Estate, New Delhi

11:30 am
Meeting with the Prime Minister
Venue: Hyderabad House

12:30 pm
Delegation Level Talks

1:00 pm

Exchange of Agreements and Press Statements

Venue: Ball Room, Hyderabad House

2:30 pm

CEOs Forum

3:30 pm
Meeting with the President
Venue: Rashtrapati Bhawan

4:15 pm
Interaction with students
Venue: Bikaner House

7:30 pm
Welcome Ceremony for International Solar Alliance
Venue: Rashtrapati Bhawan

Sunday, March 11, 2018

9:00 am
International Solar Alliance Summit
Venue: Rashtrapati Bhavan Cultural Centre

4:05 pm
Emplane for Agra

5:15 pm
Arrive and Visit Taj Mahal

6:55 pm
Emplane for Delhi

Monday, March 12, 2018

09:25 am
Emplane for Varanasi

11:15 am
Inauguration of Solar Power Plant , Mirzapur
Venue: Solar Power Plant ,Mirzapur (U.P)

12:35 pm
Arrive & Visit Pt. Deen Dayal Upadhyay Hastkala Sankul
Venue: Pt. Deen Dayal Upadhyay Hastkala Sankul (Bada Lalpur)

1:30 pm
Visit to Assi Ghat and Dashashwamedh Ghat ( Varanasi)

4:40 pm
Emplane for Delhi

6:10 pm
Emplane

(Source: Ministry of External Affairs)