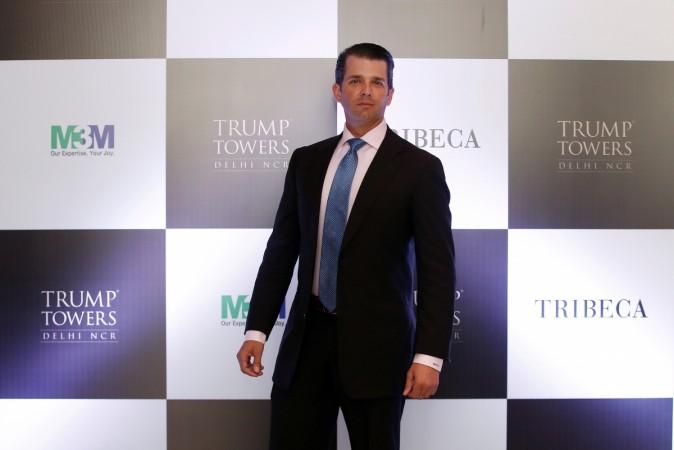 US President's eldest son Donald Trump Jr. is in India on an "unofficial" visit to promote Trump family's real estate business. His visit comes at a time when Canadian Prime Minister Justin Trudeau is in India and Narendra Modi's apparent "snub" has made quite some headlines.
Trump Jr. arrived in the country on Tuesday, February 20, and has a series of meet-and-greets scheduled in Mumbai, Gurgaon, Pune, and Kolkata, cities where the family has its real-estate projects. In fact, India is said to be the company's largest international market.
The 40-year-old will meet several investors and business leaders and will also have dinner with buyers of the Trump-branded properties in these cities. Such dinners have also been organised in Kolkata, where about 65 percent of the apartments have been sold out.
Trump Jr. sounded quite excited about his visit to India. "India is such an incredible country and our brand has enjoyed tremendous success in the region for many years. This trip is a celebration of all we have achieved, including the launch of the Trump developments in Kolkata and Delhi which have been underway for many months," ANI quoted him as saying.
His PR machinery too was quite active even before he visited India and several papers carried full-page advertisements about his trip. "Trump has arrived. Have you?" read the advertisement, according to ANI, while another added, "Trump is here. Are you invited?"
Apart from interacting with buyers and business leaders, Trump Jr will also deliver a speech on Indo-Pacific relations at a global business summit on Friday, February 23. The summit will also be attended by Prime Minister Narendra Modi who will speak about "Preparing India for the Future."
Trump Jr. is in India at the same time as Canadian PM Trudeau, who arrived on February 17. While much was discussed about his visit and how it would strengthen India-Canada ties, the fact that Prime Minister Narendra Modi did not receive Canada's first family in New Delhi has raised many eyebrows.
Trudeau was instead received by Minister of State for Agriculture Rajendra Singh Shekhawat. Diplomatic sources have even said that this could be the BJP government's way of expressing displeasure over Trudeau attending an event organised by Sikhs in Toronto in May last year, reported Telegraph UK.
However, Modi has not really broken a protocol as it is not mandatory for the PM to receive heads of states.
Former Indian high commissioner to Canada Vishnu Prakash also said that Trudeau was provided with all the facilities and no protocol was broken. "There is no snub whatsoever, by any stretch of the imagination. Prime Minister Justin Trudeau is an esteemed guest. He is on a state visit. He is here on the invitation of Prime Minister Narendra Modi, and he has been accorded all due courtesy as per protocol," Prakash told Scroll.