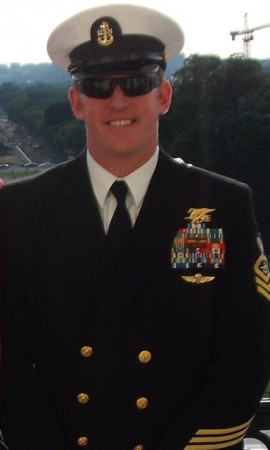 Former US Navy SEAL Rob O'Neill, who claims to have killed Al Qaeda leader Osama bin Laden in May 2011, was reportedly asked to leave an American Airlines jet for being drunk.
The military hero boarded the flight to Dallas with his new wife Jessica from the Nashville Airport in Tennessee on Sunday, February 25, reported TMZ.
Eyewitnesses told the website that the couple were too drunk. According to them, O'Neill yelled at a flight attendant shortly before the plane took off and he passed out.
The flight attendants waited for him to regain consciousness. When he woke up, they informed him that he is too drunk to fly and asked him to leave the plane. But he apparently became loud and belligerent, forcing the staff members of the American Airlines to call the police.
Later, a representative of the American Airlines confirmed to Daily Mail that they had to seek police help to throw off a drunken passenger from the flight.
However, a police report obtained by the website confirms that O'Neill was not arrested. According to the report, he was offered a flight to Dallas the following day, but he declined and drove back to Nashville in a taxi with his wife.
The police report also states that "an active warrant" was out against the former US Navy SEAL, but it was "in-state for Texas only".
A representative of the military hero also informed the website that the local authorities and the staff members of American Airlines "treated them fairly".
"Rob believes he was treated fairly by both American Airlines and local authorities and that this really is a non-story," the representative said.
The former US Navy SEAL had claimed that he fired the headshot that killed Osama bin Laden when he was part of SEAL Team Six which stormed into the Al Qaeda leader's compound in Pakistan in 2011.
O'Neill was also part of the rescue mission of the Maersk Alabama in 2009, in which he saved the lives of many who were kept as hostages by Somali pirates.
The military hero, who describes himself as the SEAL who killed Osama Bin Laden, took voluntary retirement from government service in 2012. He retired as a senior chief petty officer.