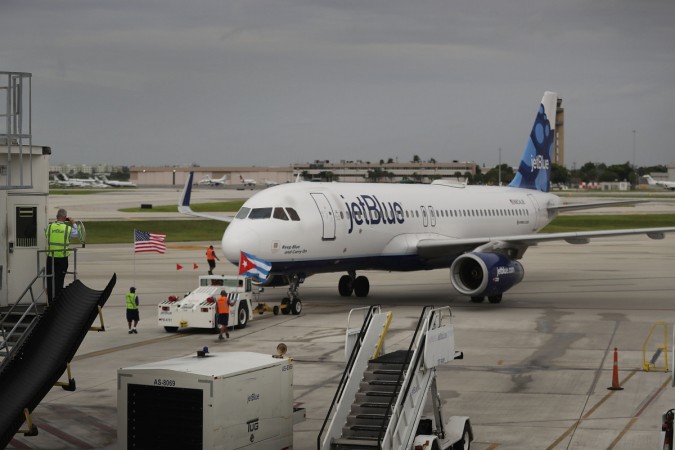 Some passengers flying from LA to New York on Tuesday were in for a rough start when a disturbing co-passenger punched a JetBlue flight attended before the flight could take off.
According to Daily Mail, a video captured by a passenger surfaced online showing the passenger constantly abusing and punching the attendant in the head.
In the video, the man is heard shouting, "Get the f*** off of me!' Big where the f*** are you at! I need the seat Biggie! Why are we still in the f***ing airport? We are not on a f***ing plane obviously."
"I get high as sh** I get f***ing dumb water!" he said before he laid a punch on him.
The events unfolded while the flight was taxiing for take-off. But due to the "incident", the captain announced that the plane will be returning to the gate.
Following which, the passenger was removed from the flight and it was after three attempts that the National Guard members could handcuff him. In the first two attempts, he broke out the sets of handcuffs.
Speaking of the incident, an eyewitness told Daily Mail, "After the flight attendant was hit, he immediately restrained the man and asked for assistance. This could have been so much worse had they all not acted so professionally."
"This happened on my red-eye Jetblue flight Tuesday night from LAX to JFK. It occurred after all passengers and crew were instructed to fasten their seatbelts," the witness added.
JetBlue is not new to such incidents. In December, a flight from LA to New York was forced to make an emergency landing after a man began biting other passengers. According to Fox News report, the man suddenly broke into the biting spree and started hitting as well.
When doctors on board the flight attempted to restrain the man, he began attacking them as well. A video of the incident was shared online.