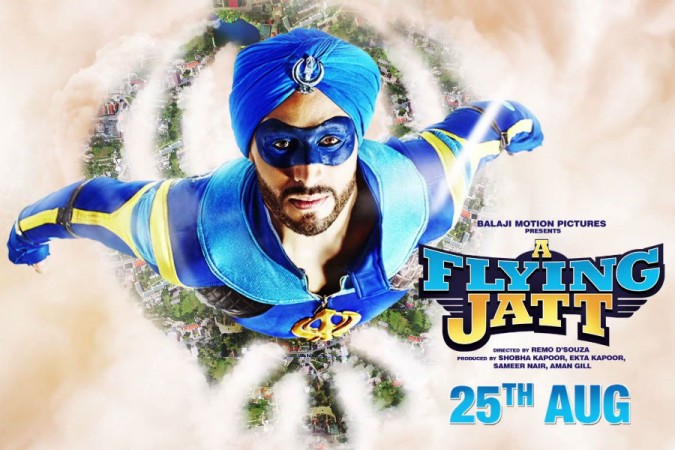 Director Remo D'Souza's Bollywood movie "A Flying Jatt" (AFJ) featuring Tiger Shroff, Jacqueline Fernandez and professional wrestler Nathan Jones in the lead roles, has got mixed reviews from the audience.
AFJ Review | AFJ Critics Reviews | AFJ Stills | Trailer launch Photos | Promos
"A Flying Jatt" is an action film about a Jatt superhero (Tiger Shroff). Jatt is afraid of heights, but what happens when he has to save the world forms the crux of the story. Besides directing the film, Remo D'Souza has written its script in collaboration with Tushar Hiranandani. Ekta Kapoor, Shobha Kapoor, Sameer Nair and Aman Gill have produced the film under the banner Balaji Motion Pictures.
Malhotra (Kay Kay Menon) is a money-minded rich man, who owns a construction company. In a bid to expand his company, he plans to usurp 'Kartar Singh Colony' for his project. He hires deadly and towering Rakka (Nathan Jones) to throw the residents out of the colony. While evicting the residents, Rakka lands in trouble with Aman (Tiger Shroff), who is a martial arts teacher in a school. How Aman decimates Rakka to save the residents unfolds in the rest of the film.
Tiger Shroff has delivered a wonderful performance in "A Flying Jatt." He impresses viewers with his action and dance moves. Jacqueline Fernandez, who is playing his love interest, has done justice to her role and her chemistry with Tiger is a highlight of the movie. Nathan Jones is another big attraction. Kay Kay Menon, Amrita Singh and Shraddha Kapoor are also assets of the film, say the audience.
"A Flying Jatt" has good production values, but the movie lacks an interesting story and entertaining screenplay. The first half of the film has some fun moments, but the dragging narration in the second half mars the beauty of the movie. Vijay Kumar Arora's camera work and Sachin-Jigar's music, and well-choreographed action and dance sequences are the other attractions.
We bring you some viewers' verdict on the film shared on Twitter. Here is the live update of the "A Flying Jatt" movie review by audience:
Sűrąj Khäń ‏@iSurajDevonKhan
Watched #AFlyingJatt It's Like Out Of The ExpectationChange The Definition Of Superhero Movies In India @remodsouza Hats Off @iTIGERSHROFF
ANW€SH p@Nda ‏@being_anwesh
#AFlyingJatt is a average movie.Music & comedy are awesome.But story & action are valueless.The concept of being superhero is worst ever.
Anupama Chopra ‏@anupamachopra
A superhero who shops for lauki - #AflyingJatt could have been fun but it never takes off.
Telugu Critic ‏@southfdfsbb
#AFlyingJatt is utter nonsense. I pity the ones who find it a message oriented. Worst script, lame comedy. The climax! My rating is 0.5*/5
Rohit Vats Verified account ‏@nawabjha
Watched #AFlyingJatt. Funny first half. Dragged second half. Too many Hollywood references. Review coming soon on @htTweets.
Sultan ‏@AbdulsameerD
A Flying Jatt Review : Tiger Shroff @iTIGERSHROFF Explores his Funny Side and he is quite good in that #AFlyingJatt
Priya Ranjan Pradhan ‏@ibapuni
JUST SAW #aflyingjatt finally we got india's youngest superhero with @itigershroff fine performance @Asli_Jacqueline dazzling #superdhamaka
Denzil ‏@bollywoodpataka
#AFJ #AFlyingJatt Review #AFJDay budgeted desi superhero film Punjabi flavoured nicely told by @remodsouza simple n cute. Kids will luv it. #AFJ #AFlyingJatt Review #AFJDay end lengthy n preachy too. A must watch 4 the kids funny in parts n has its heart right. My review follows
sameer kkr™ ‏@sameer_kkr
#AFlyingJatt is a true family entertainer & the kids will love it! We're giving it 3.5 buzzing bees! "
Ronak ‏@ronakkotecha
#AFlyingJatt *ing @iTIGERSHROFF @Asli_Jacqueline directed by @remodsouza of @balajimotionpic is predictable, preachy & 2nd half disaster
Alia Kapoor ‏@AliaKap91287254
Just of the theatre after watching #AFlyingJatt!!! Excellent is a small word for this film! Kudos to @iTIGERSHROFF @remodsouza !
खबरीलाल ‏@raghavjaitly
Environmental, religious, social: #aFlayingJatt deals with a lot of crucial issues simultaneously. #AFlyingJatt pre-climax will touch your heart. Final face-off of #AflyingJatt is total paisa vasool Tiger Shroff's #aFlyingJatt is kicking butt. Kids will totally love #AFlyingJatt . It can also be considered an origin story
Shiva Satyam ‏@AsliShiva
Watched #AFlyingJatt, it's full on waste of time & money, no story, no entertainment nothing, even serial #Baalveer is better than this joke. @iTIGERSHROFF failed to show his skills in #AFlyingJatt & even @Asli_Jacqueline performance was not upto to Mark. Overall #AFlyingJatt is very poor & crap film, it has no entertainment value, @remodsouza direction is nonsense. My Ratings 1*.
Isha goraksha ‏@ishagoraksha
What an amazing movie!!!!! Super entertaining!!!!! #aflyingjatt @remodsouza @iTIGERSHROFF @Asli_Jacqueline congratulations
Joginder Tuteja ‏@Tutejajoginder
Tiger Shroff's #AFlyingJatt Is A Unique Superhero Film With A Refreshing Touch. My review #AFlyingJatt: An action entertainer that amalgamates messaging along with religious sentiments Rating ***
Umair Sandhu @sandhumerry
Exclusive Review #AFlyingJatt..!!! Totally Paisa Vasool Film all the Way !! #TigerShroff is in Terrific form! After Blockbuster #Baaghi, He is Back with Bang! He Steals the Show all the Way. He Nailed it! As a Punjabi Superhero, Fans will go Gaga over his New Cool look. #JacquelineFernandez is in Geek Look. But She gave TOP Notch Performance. She looks Stunning throughout the film. #AmritaSingh as a Punjabi Typical Mom, She is First Rate in the film. #NathanJones Welcome to Bollywood! Seriously, He gave Mindblowing Performance as a Villain. Good Performances by all supporting actors. Racy Screenplay, Editing is Sharp, Production Designing is Excellent, Action Stunts Sequences are TOP Rated, Music is already Chartbuster, Dialogues are well written & Hillarious in many Points, Direction by #RemoDsouza is Terrific! Overall " A Paisa Vasool Popcorn flick ". Families & specially Youth & Children will enjoy this film very much. ☆☆☆ 1/2 ! 3.5/5* Go for it.
Raghuvendra Singh ‏@raghuvendras
Just saw the funniest superhero film #AFlyingJatt and the highlight was @ShraddhaKapoor's cameo in the movie. @iTIGERSHROFF @Asli_Jacqueline
Deepak Mehendiratta ‏@Deepak1992117
@balajimotionpic i really loved #AFlyingJatt .fabulous movie direct by Great @remodsouza & amazing stunts by @iTIGERSHROFF Too much loved
Sumit kadel ‏@Sumitrajkadel
#AFlyingJatt is a suicidal attempt which many will not survive. Disaster of epic proportions. @iTIGERSHROFF Bad choice buddy . 0* 5*
Parth Tolia ‏@coolsaintme
Its a treat for kids, message against pollution is a positive! #AFlyingJatt just watch it at home when it is aired on TV.
Abhishek_2305 ‏@abzarya
Now a fan of @iTIGERSHROFF... does everything a super hero can... #AFlyingJatt is fun... A tad too long... #TigerShroff
Gunjan ‏@gunjan4ever
Jst came bak watching #AFlyingJatt !Loved it!D message of keeping environment clean ws nicely delivered! @iTIGERSHROFF -Apna new superhero!
Dhieraj Mohan @dhieraj
#AFlyingJatt takes off fine with some funny moments and then gets entangled into numerous threads, what with a primer on sikh religious and cultural practices,bravery and valour of sikhs, cancer awareness,saving the environment,Frankenstein that's pollution created by mankind itself. It crashlands with bumpy and stretched ride post interval.Even Tiger Shroff's martial arts prowess cannot lift this neither fantasy-nor fancy mish-mash.
KÄMRÄN SHÄÏK ‏@BeingMKamran
BEAUTIFUL EXCELLENT SUPERB !!! Watching 3rd time today!!! Bcoz this is Fantastic and Fabulous Film!!! Go & Watch it Vibes!!! #AFlyingJatt