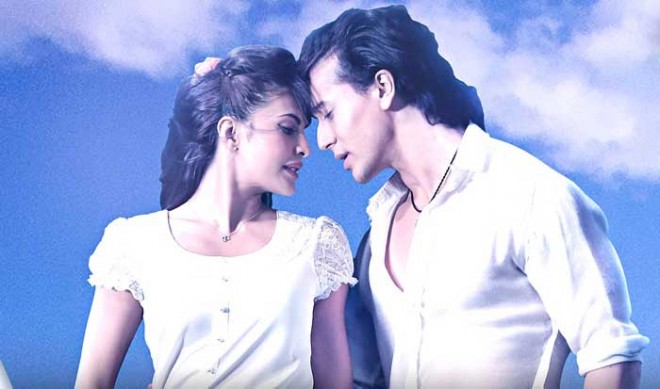 Rating: 2
The superhero genre is still a much under-utilised or rather poorly-utilised concept in Bollywood. "A Flying Jatt," which holds the tagline 'Hope has a new name,' makes us search deep within ourselves for any hope of a commendable superhero movie from Indian filmmakers.
A Flying Jatt Stills | Trailer launch Photos | Promotions Pictures
After Indian kids were done with their obsession with Shaktimaan in the late '90s, a new improved desi superhero came up in the name of "Krrish" in 2006. And now 2016 has given us a clean-shaven Jatt superhero, who derives his power from a holy tree. Yes, while Spider-Man had gained his special powers from a chemically infected spider, Tiger Shroff's character becomes "A Flying Jatt" by the grace of a holy tree, which is believed to be a wish-fulfilling medium.
Tiger Shroff (Aman), a martial arts teacher who fails to impress his tiny students even with his abs and chiseled physique, leads a much monotonous life. Being the son of a late Sikh warrior but afraid of height, let alone fights, he struggles to fulfil the dreams of his mother, played by Amrita Singh, who always tries to find a braveheart in her son. The holy tree eventually fulfils the mother's dream.
The film has its roots in the same special tree, which a rich but wicked businessman Malhotra (Kay Kay Menon) wants to cut in order to ease the movement of his trucks to his chemicals factory. But the tree rests on Aman's land and his mother is not ready to allow Malhotra to have his way. Malhotra entrusts the responsibility of cutting down the tree to a beast-like human, Raka, played by Nathan Jones.
Aman tries to stop Raka from chopping off the tree and in the process, he gets almost killed but gains super powers. Nathan, on the other hand, gets dumped into tons of chemical waste, courtesy the holy piece of wood. Soon realising the special gift that he has been bestowed with, Aman becomes the saviour of the masses from all evils. His mother is, of course, delighted with the change and enthusiastically designs the blue super-hero outfit for her son.
Raka soon comes back with chemical waste smeared all over — and inside — his body (this scene may remind you of Vijay Raaz's famous scene from the movie, "Run," in which he comes out of a drain and says, "Sala choti Ganga bolke naale mein kuda diya be"). No, he hasn't died after being dumped into toxic waste. He has, on the contrary, attained some extraordinary powers from the waste and turned into a super-villain. Raka and Malhotra then set off on an evil mission. Whether the antagonists remain unstoppable or the superhero is able to save the innocent lives, makes the rest of the story.
Yes, we know you may be searching for a mention about Jacqueline Fernandez in the review. That's exactly what we did while watching the movie. Alas, like most Bollywood films, the actress has nothing much to showcase in the film, apart from shaking legs with Tiger and doing some romantic scenes.
If there is one thing that director Remo D'Souza can be appreciated for in the movie, it is the fact that he tried to send out an important social message through "A Flying Jatt." The film makes an ardent effort to highlight the issue of pollution and how it is affecting nature. But his noble intention behind the film gets subdued by the comic representation of the superhero theme.
A big letdown is the VFX, which can be the backbone of any superhero project. "A Flying Jatt" has no mention-worthy effects at all. Nevertheless, this film is okay in terms of performance. Tiger has showed some good martial arts moves and Gaurav Pandey, who plays Tiger's childhood friend Rohit, adds a few funny moments. Shraddha Kapoor makes a special appearance in the film.
"A Flying Jatt" appears to be a comic book just copy-pasted on celluloid, which may entertain viewers within the age bracket of 5 to 12 years, but will shatter the hopes of all who are expecting anything new from this Sikh superhero.