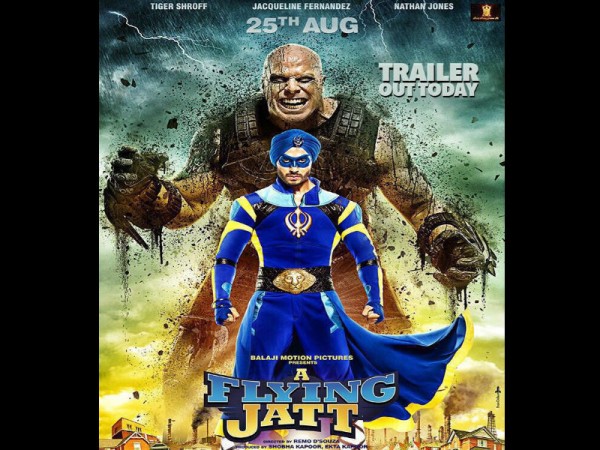 Tiger Shroff and Jacqueline Fernandes-starrer "A Flying Jatt," which was released on Thursday, Aug. 25, has garnered mixed reviews from critics.
"A Flying Jatt" is an action-comedy fantasy and will see Tiger as a superhero, who discovers his hidden superpowers a tad late in life. Nevertheless, he protects the mankind from super villain named Raka, while Jacqueline plays his love interest and the damsel in distress. How Tiger's character saves people from the evil is set to leave the viewers in splits.
Tiger's first two films -- "Heropanti" and "Baaghi" -- were box office hits and with "A Flying Jatt," the actor is set to create a record of back-to-back hits. This is the first time Tiger and ace choreographer-turned-director Remo D'Souza have teamed up for a film. The dancer duo, with their amazing comic timings and daredevil stunts, have certainly made it into the hearts of the movie-goers.
Directed by Remo and produced by Ekta Kapoor, "A Flying Jatt" also features Nathan Jones, Kay Kay Menon and Amrita Singh in important roles. Shraddha Kapoor is seen in a cameo role in the film.
We bring you some critics' verdict for the movie. See them below in the "A Flying Jatt" review round-up:
Sreeju Sudhakaran of Bollywood Life said: "The film goes downhill from its second half taking a mighty tumble. Also the climax is a royal mess. Remo sort of loses his grip on the plot and makes it into a public service announcement to curb pollution. A Flying Jatt would have soared had it not compromised its second half and become a preachy documentary on global warming."
Bollywood Hungama said: "A FLYING JATT has the ingredients that make an interesting superhero film. A section of the audience might find the film's proceedings to be corny; however, the mass audiences and kids might take a liking for the film. At the Box-Office, the film has the potential to fly, though, not to great heights. The extended weekend will help the film reap dividends at the Box-Office."
Saibal Chatterjee of NDTV said: "A Flying Jatt, anchored by a glassy Tiger Shroff whose acting skills are still pretty rudimentary, delivers a truckload of trash that inevitably stinks to high heaven. Jacqueline Fernandez signals all that is wrong with this film. Flying on a wing and a prayer, this film about a young Jatt in a rut is a yawn-inducing exercise that only gets worse with every passing frame, each as fatuous as the previous one."
Pinkvilla said: "The film's story is far too juvenile to strike a chord with adults. Director Remo D'souza has reduced his work considerably by sewing together the story of a goody and silly young chap, who derives his superpowers from nature and fights the evil villain, who gets powerful by toxic waste. Quite a lesson for kids who shirk studying that subject. In fact, it would've been pretty appropriate to run a line with the title - A Flying Jatt (An EVS lesson to remember...)."
Devarsi Ghosh of India Today said: "A Flying Jatt is meant for kids. If grown-ups don't mind doing the fabled "leave the brain outside the home and enjoy" routine before stepping into the theatre, they will not mind A Flying Jatt."
Rohit Vats of Hindustan Times said: "A Flying Jatt begins on a good note, picks up the pace, throws some light-hearted moments, and then faces the curse of the second half. It drags its feet from becoming the smart film just when it's needed and goes for the all-explaining commentary."
Sarita A Tanwar of DNA said: "A Flying Jatt isn't like your usual superhero film— it begins with being a bit more real and that's endearing. The whole premise of a bumbling superhero who can fly but is scared of heights was a cracker of an idea. As a director, Remo fails to show any finesse; in fact, there is utmost contempt towards the audience with his blatant disregard towards anything aesthetic."
Stay tuned for more updates.