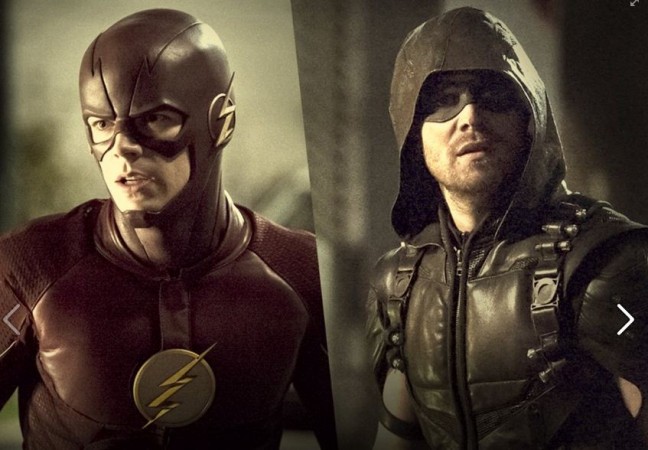 "The Flash" Season 2 and "Arrow" Season 4 are back after their short breaks, with both shows premiering episodes 16 Tuesday and Wednesday, respectively. "Arrow" and "The Flash" are both going through very interesting phases in their storylines, but for varying reasons.
"The Flash"
In the previously aired Season 2 episode 15 "King Shark," fans learnt Zoom (Teddy Sears) is a Jay Garrick lookalike. Although Team Flash knows nothing about the identity of Zoom, Barry (Grant Gustin) decided in "King Shark" he would return to Earth-2 and defeat Zoom. This would also allow Dr Wells (Tom Cavanagh) and his daughter Jesse (Violett Beane) to return to their home on Earth-2.
In the upcoming episode 16, however, Zoom's storyline will be pushed to the background, with the arrival a new speedster in Central City. Trajectory (Allison Paige), the first female speedster to be introduced in the series, is a small-time criminal who has a desire for speed. Her streak matches that of Flash, and Iris' (Candice Patton) new boss Scott Evans (Tone Bell) uses the opportunity to paint the Flash as a petty thief.
The episode, aptly titled "Trajectory," will be aired at 8 p.m. (EST) Tuesday, March 22. You can also live-stream Season 2 episode 16 of "The Flash" via CWINGO and The CW Seed.
"Arrow"
The unexpected twist in Season 4 episode 15 "Taken" had more to do with Felicity (Emily Bett Rickards) as opposed to the season's big bad Damien Darhk (Neal McDonough). After Felicity learnt Oliver (Stephen Amell) had hid the truth about his son, she decided she could not be with him anymore.
The silver lining around the cloud of the Olicity break-up was Felicity got up from her wheelchair in her fit of sorrow and anger. She effortlessly walked out of the apartment leaving her engagement ring behind, indicating the biomechanical chip Curtis aka Mr Terrific (Echo Kellum) made for her is working.
While the break-up explains why she was not wearing the engagement ring in the flash forward car scene, we are no closer to learning who is in the grave. A theory even suggested Felicity could still be in the grave even though she was seen sitting in the car with Oliver, thanks to Mirakuru.
Meanwhile, the upcoming Season 4 episode 16 "Broken Hearts" is expected to see Malcolm Merlyn (John Barrowman) double-crossing Darhk and taking over as the head of Genesis. You can catch the episode when it airs at 8 p.m. (EST) Wednesday, March 23, or live-stream it via CWINGO and The CW Seed.