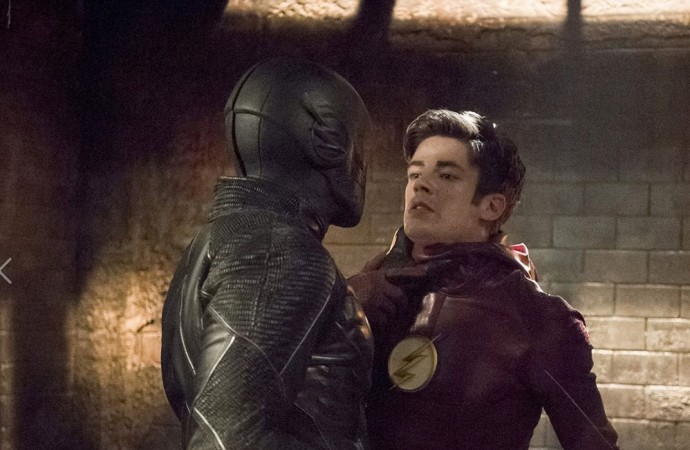 Following the battle between Barry (Grant Gustin) and King Shark (David Hayter) in Season 2 Episode 15, "The Flash" went on a short break. The upcoming Season 2 Episode 16 titled "Trajectory" will premiere in The CW on Tuesday, March 22.
As comic book fans would have inferred from the title, the upcoming episode will introduce the female speedster Trajectory aka Emily Harmon (Allison Paige). She is the first known female speedster and is described as someone who has a mad desire for speed and destruction.
Although she will be seen landing a few punches on Barry, Cisco (Carlos Valdes) seems to be enamoured by the prospect of a female speedster. In the promo for "Trajectory," Cisco is seen asking Barry if the streaking lady is good looking for "purely scientific reasons." In a later scene, Barry sarcastically informs his friend that the next time Trajectory punches him, he will remember to ask for her number.
Also Read: 'Arrow'/'The Flash' characters killed by 'Suicide Squad'
Trajectory's actions are also putting the Flash's reputation in jeopardy, with many even tagging him as a common thief. Scott Evans (Tone Bell), Iris' (Candice Patton) boss at Central City Picture News, will definitely have a field day with it, considering he is hell-bent on pulling the Flash off the pedestal. In the promo, Scott is heard saying, "From Streak to Freak."
Sadly, however, the wait for the episode is quite long, and hopefully before the premiere of "Trajectory," The CW will be releasing more promos and trailers regarding the new episodes. After all, there are some exiting events to look forward to, considering Barry's decision to return to Earth-2 and the big Zoom reveal.