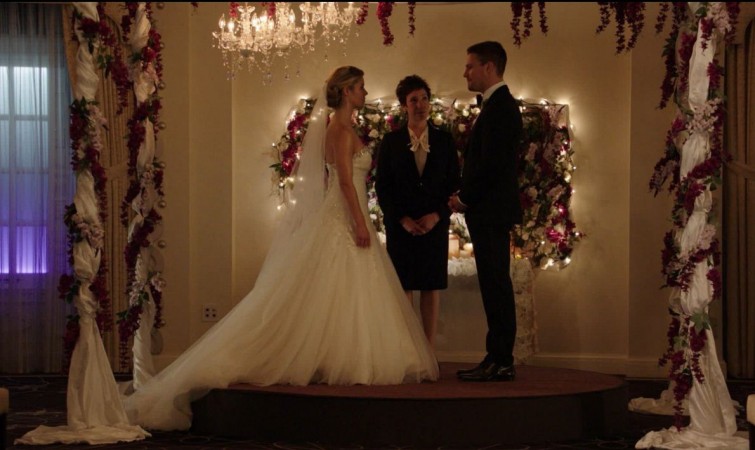 Season 4 of "Arrow" has been peppered with a good amount of lighter moments and dark ones, but the upcoming Episode 15 titled "Taken" is going to be heavy for many reasons. For starters, it is going to be the episode where everyone will learn about Oliver's (Stephen Amell) secret son William.
Ever since fans learned that Oliver has a son in Central City, they have been hoping that he will reveal it to Felicity (Emily Bett Rickards). After all, it is no secret that she values honesty in everyone and that she loves how open her relationship with Oliver is.
However, Oliver had to make a choice between having a relationship with his son and telling the truth to Felicity. Under the circumstances, he made the right choice, even his sister Thea (Willa Holland) seemed to think so, when she learned the truth. However, she argued that to ensure her nephew's safety, she had to give up being an aunt.
In the upcoming Season 4 Episode 15, though, Felicity will learn the truth, thanks to Damien Darhk (Neal McDonough). Towards the end of the previous episode, he was seen telling his daughter that William will be staying with them for a while. In the promo for "Taken," he threatens Oliver by saying he has William.
Also Read: 'Arrow'/'The Flash' characters killed by "Suicide Squad" movie
Felicity is seen asking Oliver who William is, and he is forced to tell her the truth. Olicity fans worried that knowing that Oliver something so huge from her would force Felicity to call off their wedding. This worry was warranted, especially because her ring finger was devoid of an engagement ring in the grave scenes.
Even Stephen Amell had said during an "Arrow" panel that Oliver seems to have messed things up. However, a recent photo tweeted by Amell shows Oliver and Felicity getting married in a beautiful indoors venue. The only caption to the photo is "Huh.." Fans know better than to believe that the wedding would go without a hitch, but at least there may be a wedding.
Willaim's fate, on the other hand, remains a mystery. Fans can only hope that the "Arrow" writers aren't cruel enough to send a young boy to his grave. Moreover, he is expected to find a saviour in the Vixen (Megalyn Echikunwoke) who will be heading over to Star City in "Taken".
Watch Season 4 Episode 15 of "Arrow" at 8 p.m (EST) on Wednesday, Feb. 24, 2016. You can also live-stream "Taken" via The CW Seed and CWINGO.