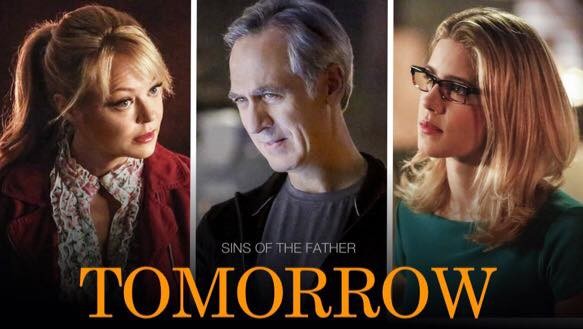 "Arrow" Season 4 is heading towards very dramatic territory, with Thea's (Willa Holland) bloodlust withdrawal in Episode 12 "Unchained". Oliver (Stephen Amell) has been given a choice between his sister's and Malcolm Merlyn's (John Barrowman) life.
In the upcoming "Sins of the Father", Team Arrow is divided on whether to take up Nyssa's (Katrina Law) offer to kill Malcolm for Thea's cure. While Laurel (Katie Cassidy) argues that Malcolm killed her sister and that if killing him would ensure Thea's safety, Oliver reminds her that he is still Thea's family.
Although Oliver knows Malcolm is not the best guy, and the reason his best friend Tommy (Colin Donnell) is dead, he also knows Thea has grown closer to him. She will not forgive Oliver if he kills her father to save her.
While the rest of Team Arrow thinks of ways to save Thea, Felicity (Emily Bett Rickards) is seen reconnecting with her father. Fans saw her meeting him in person towards the end of the previously aired "Unchained". Throughout the episode, the father and daughter were having a cyber war, neither knowing who the other was.
Also Read: Arrow visits National city with Barry in Supergirl Episode 18 World's Finest?
However, from the looks of it Calculator aka Noah Kuttler (Tom Amandes) has figured out his daughter is the cyber vigilante that thwarted his evil plan of destroying Star City. In the coming episode, fans will get to see the two interacting and possibly trying to outshine each other.
What does his return mean for Donna (Charlotte Ross), who has always maintained Noah left her, and was the smartest man she ever knew? She is currently dating Captain Lance (Paul Blackthorne), and Felicity is engaged to a vigilante/mayoral candidate. Entering either of their lives at present may not bode well for the villainous Calculator.
Meanwhile, it has been confirmed that Megalyn Echikunwoke will appear in "Arrow" as Vixen in one of the future episodes of Season 4. Echikunwoke currently provides the voice for the animation series "Vixen" on The CW, but this will be the first live action version of the superhero to arrive at Star City.
According to Cinema Blend, Vixen will debut on "Arrow" on Wednesday, Feb. 24, when Season 4 Episode 15 "Taken" will be aired.
Watch Season 4 Episode 13 of "Arrow" at 8 p.m. (EST) on Wednesday, Feb. 10, 2016. You can also live-stream "Sins of the Father" via CWINGO and The CW Seed. Seasons 1 and 2 of "Arrow" are available for streaming on Netflix.